If you see a hitchhiker along the road in Canada this summer, chances are it might not be human. That's because a robot is thumbing its way across our neighbor to the north as part of a collaborative research project by several Canadian universities.
HitchBOT, as the robot is dubbed, is a collaborative art-technology project from researchers at Ryerson University, McMaster University, and the University of Toronto. It is hitchhiking from Port Credit, Ontario, near Toronto, to Victoria, British Columbia, during July and August.
David Harris Smith, assistant professor in the Department of Communication Studies and Multimedia at McMaster University, and Dr. Frauke Zeller, assistant professor in the School of Professional Communication at Ryerson University, conceived the robot last year and started the project. Ebrahim Bagheri, assistant professor in electrical and computer engineering at Ryerson University, and Dr. Frank Rudzicz, assistant professor in computer science at the University of Toronto, joined the project later, along with a number of research assistants.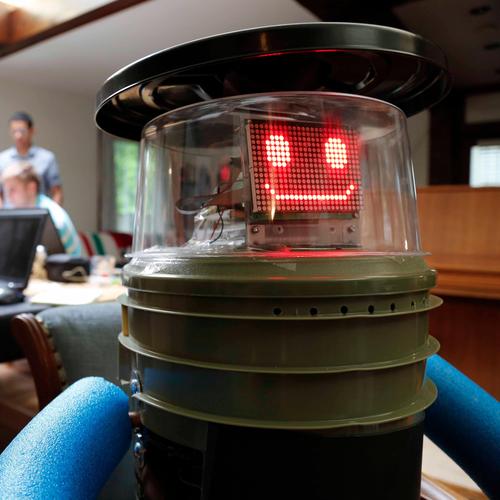 The concept behind hitchBOT is the idea of whether humans trust a robot, according to a press release. Researchers also are looking to glean insight into human-robot interaction. From a technological standpoint, hitchBOT tries out sophisticated artificial intelligence and speech recognition and processing technologies that allow it to converse with people it meets and engage in a number of social-networking activities.
Specifically, hitchBOT has 3G and GPS capabilities and a face comprising LED lights that shows expressions. To save energy, the robot's body is wrapped in solar panels that can be recharged on the road. HitchBOT can speak English as well as a few sentences in French; researchers programmed this bit of artificial intelligence powering in a conversational AI format called Cleverscript.
When a driver picks up hitchBOT, he or she literally picks the robot up and lifts it into the car, placing it in the passenger seat and strapping it in the seatbelt. The robot can't move on its own. The robot is about the height of an average six-year-old and heavy enough to withstand wind from passing cars; however, it's light enough to be lifted by the average adult.
HitchBOT has its own website with a map showing where it is along its journey. The website includes instructions for drivers who pick up the robot, telling them how to handle certain situations, such as if the robot runs out of power ("please make sure to plug me into the cigarette lighter of your car, or into any power plug in your house") or if a person engages in physical contact with the robot ("You can pat me or hug me, but please be gentle -- I need to arrive in Victoria with all my parts").
The robot -- which is equipped with a camera -- is posting photos on Instagram and tweeting from the road. It also has its own Facebook page.
Related posts: