A new technology presents a major breakthrough in preventative medicine by providing the ability to diagnose infectious or inherited diseases long before they've historically been identified.
Dubbed a "lab on a chip" and the invention of Professor Christofer Toumazou at Imperial College in London, the microchip technology can analyze a person's DNA within about 30 minutes, cross referencing DNA with a template for certain diseases to discover if a person has a predisposition for them.
The technology "measures pH changes as DNA strands combine together," allowing "genetic sequences to be read rapidly and directly at the point of need," Steve Allen, chief operating officer of DNA Electronics Ltd., told Design News. DNA Electronics -- a medical device company of which Toumazou is founder, chairman, and CEO -- is developing the microchip, which won its creator the European Inventor Award 2014 in the category of research.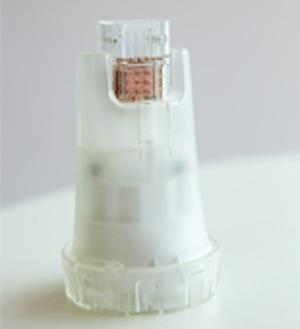 The benefit of this rapid DNA sequencing is that it allows for someone to identify if they have an infectious or inherited disease in the very early stages and allow appropriate drugs to be described, Allen said.
Specifically, the lab-on-a-chip device uses silicon transistors to identify DNA and RNA, amplifying and detecting DNA and other biomolecules using pH measurement. This is currently less expensive and faster than other DNA and RNA analysis methods and equipment used today, according to information on the DNA Electronics website. The microchip also is the foundation of a molecular diagnostics platform the company is developing called Genalysis.
Toumazou describes how the lab on a chip technology works in this video posted by news agency CNN.
Toumazou -- a Regius professor of engineering and chair in Biomedical Circuit Design, director of the Centre for Bio-Inspired Technology at the college, as well as the founder and chief scientist for the Institute of Biomedical Engineering -- has been developing the DNA cross-referencing chip technology since the early 2000s.
In addition to his academic positions and his position at DNA Electronics, Toumazou also is chairman and CEO of medical device company Toumaz Technology, as well as chief scientific advisor to GENEU.
Toumazou and his team have entered product development with the technology, which should be available in Europe within three years, Allen said. It will reach the United States sometime after that. Prototypes of the microchip should be available in early 2016.
related posts: