In 1976, a popular movie called the Bad News Bears highlighted the foibles and follies of a terrible little league team that just couldn't get a win, or a break.
Today, the Hanwha Eagles are kind of like the Bad News Bears of the South Korean professional baseball league, a team whose last five years of ranking last in their league and racking up 400 losses has -- unsurprisingly -- caused its steadfast and dedicated fans to lose a bit of faith.
The team, based in the city of Daejeon, has responded to its losing streak -- and fans' losing heart -- in an innovative way by packing a section of its stadium's stands with interactive robots dubbed "Fanbots" that give the team and its fans a much-needed boost.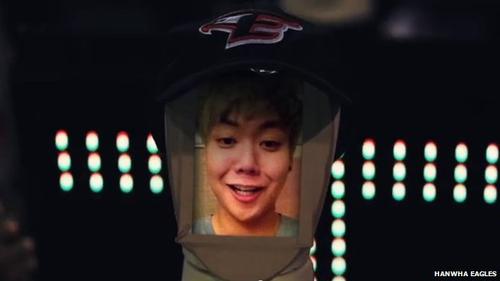 The robots wear Hanwha Eagles jerseys and can lead the human fans in various cheers -- including the stadium classic, the Mexican wave -- by holding up LED signs directing them. The signs direct fans to say things like, "Go, Eagles" or "I Love You, Eagles," prompting a response from the crowd.
Check out the below video about the Eagles' Fanbots, which also can be controlled via smartphone by fans to paste a selfie of themselves to appear on the screens that comprise the robots' faces as they cheer for the home team.
The robots are aimed not only at boosting the morale of the players but also the fans by engaging them and keeping them interested in the stadium activity and the game, even if the team itself is playing badly.
"It's a pretty neat idea," Hanwha Eagles pitcher and former Minnesota Twin Andrew Albers said in the team's YouTube video. "It gets the crowd into it and really helps them get involved."
It's also one way to ensure even a losing team will always have someone in the stands to cheer for them.
Related posts: