Many workers stuck behind a desk all day lament that they spend too much time sitting down and don't have enough time to exercise. A recent University of Chicago graduate has come up with a solution to this problem: a compact elliptical trainer that lets people work out while they work.
The Cubii exercise machine is the brainchild of Arnav Dalmia, who has formed a company called Fitness Cubed to sell and market the product. It can fit under any typical desk and comes with a mobile application that lets users track their progress through revolutions, distance, calories, and other factors. It also connects them to others using Cubii via social networks.
Dalmia told us he was inspired to design Cubii about a year and a half ago, when he started an internship at a corporate firm. "Having been very active during college, I started to feel very lethargic after sitting at my desk for most of my day. Around the same time, I came across an article that addressed the sitting disease and said, 'Sitting is killing you.'"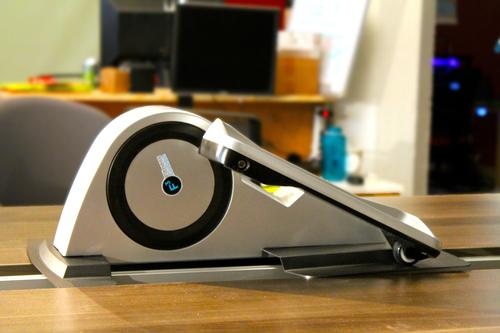 The article -- which outlined how sitting is bad for people's posture, weight, and other health-related factors -- inspired Dalmia to look into options for exercising while working, such as treadmill desks and standing desks. However, those were not options for him, due to space and financial constraints. "I realized a number of people were in a similar situation like me. That is when I decided to build something that was affordable, compact, non-intrusive, and easily adaptable to your lifestyle."
Unlike the elliptical machines typically found at fitness centers, Cubii is quiet, so it won't distract others working around you. It also has been designed with comfortable foot angles, so people can use it without too much effort and without hitting their knees on the desk, Dalmia said. To ensure they're getting a workout, users can change the resistance, as they can on any typical elliptical machine.
Some of Cubii's internal parts are made of aluminum, but most exterior parts are made of a high-quality plastic, making it lightweight -- about 20 lb.
Related posts: