Ever lie awake at night listening to the ruckus of a neighbor's party or car alarms going off on a city street? Most of us have at one time or another, due to thinly insulated walls (and inconsiderate neighbors and would-be thieves).
A soundproofing invention that recently won a television challenge to silence a deafening air horn with only a fraction of an inch of polymer material could solve this problem. Acoustiblok is a heavy yet flexible viscoelastic polymer that, rather than trying to block or absorb sound, transforms it into friction, or acoustic heat, which can't be heard.
The Tampa, Fla., company that produces the material says one-eighth of an inch of the material is as effective as 12 inches of solid concrete when added to a stud wall.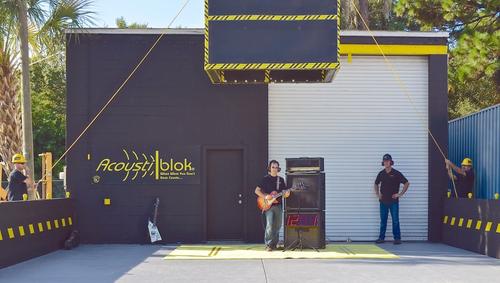 On an April edition of the National Geographic Channel show Showdown of the Unbeatables, Acoustiblok went up against the Nathan Airchime, whose noise that sounds like multiple screaming train horns at the same decibel level as a jet engine, or about 130 decibels.
Acoustiblok founder and president Lahnie Johnson invented the material. Anne Knight, director of marketing and public relations at Acoustiblok, told us Johnson was so confident Acoustiblok was up to the challenge that he agreed to let the episode air regardless of the outcome.
Johnson began his career in the aerospace industry before setting out to be an entrepreneurial problem solver, Knight said. "Uncovering a universal problem and finding a solution is what Johnson says is his passion and what he does best. When he realized how big noise problems had become and the complexity of the issue, he knew if he created the right products, there would be an abundance of financial gain to be had."
Experts say continued exposure to noise louder than 85 decibels -- such as that of a power mower -- can cause hearing damage. Noises that exceed 140 decibels -- such as a jackhammer -- can cause hearing damage after only a single exposure.
The Showdown of the Unbeatables episode in which Acoustiblok defeats the Nathan Airchime was filmed in September and October of last year. You can watch a clip of the Acoustiblok segment below.
Before facing the Nathan Airchime, thin layers of Acoustiblok were used to quiet the sound of electric guitar solos being played through a large amplifier. The video clip shows the guitarist reaching 130 decibels. He then was covered by a box insulated with two layers of Acoustiblok. Standing several yards away, the hosts couldn't hear him once the box was in place, even as he continued to rock out. The hosts even walked right up to the box and put their ears up to it. Still, to their surprise, they heard nothing.
Acoustiblok is UL classified for wall, floor, and ceiling fire-rated assemblies. It can be nailed or stapled to wood framing or screwed to metal framing before drywall, ceiling, or floor installation.
Related posts: