Though they have come a long way in terms of battery life, lithium-ion (Li) batteries still take a longer time to charge once they're depleted than most busy mobile-device or electric-vehicle (EV) owners would care to wait. Researchers worldwide are working to minimize the time it takes to recharge a Li battery. The latest research coming out of the University of California could cut the time it takes to recharge to 10 minutes.
Researchers at the university's Riverside Bourns College of Engineering have used a combination of materials -- including silicon anodes and carbon nanotubes, two materials which are often used in new battery architectures for their versatility and ease of production -- to create the new cell. The battery features three-dimensional silicon-decorated cone-shaped carbon nanotube clusters. This architecture could provide applications for mobile devices and EVs, among others, according to researchers.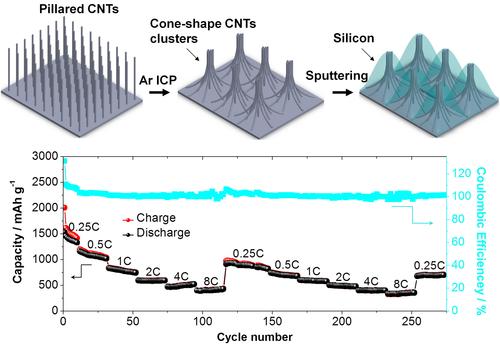 Cengiz Ozkan, a mechanical engineering professor at UC Riverside's Bourns College of Engineering, and his wife Mihrimah Ozkan, an electrical engineering professor, led the project and oversaw the work of graduate student Wei Wang.
Wang explains to Design News how silicon is a good replacement for the typical graphite used in Li battery architecture because of its higher charge capacity and lighter weight. The use of this material makes the new battery not only able to be recharged faster, but also makes the structure lighter and smaller, and thus better for contemporary device designs that are heading that way, he says.
"Silicon is a type of anode material that is receiving a lot of attention because its total charge capacity is 10 times higher than commercial graphite-based lithium-ion battery anodes," he tells us. In a packaged battery fuel-cell, for instance, replacing the graphite anode that is commonly used with silicon anodes can potentially lead to a 63% increase of total cell capacity, as well as a battery that is 40% lighter and smaller, he says.
There are two design aspects integral to the new battery architecture that allow for its charge performance, he says. The first is the seamless connection between graphene-covered copper foil and carbon nanotubes, which enhances the active material-current collector contact integrity. This facilitates charge and thermal transfer in the electrode system. The second is the architecture's cone-shaped design, which provides small interpenetrating channels for faster electrolyte access into the electrode, which may enhance the rate performance, he says.
Wang is the lead writer of a paper outlining the team's research published in the journal SMALL. The batteries the team developed showed both high reversible capacity and cycling stability, even at high charge and discharge rates that are nearly 16 times faster than conventional graphite-based anodes, he says. The batteries could easily be scaled and manufactured, because the architecture uses techniques already widely applied in the semiconductor industry, he tells us.
The next step for the research is to find "battery materials as cheap as sand," to produce ultimately a rapidly rechargeable, inexpensive Li battery design, he says.
For more on this topic, check out the Global Energy Technology Brochure white paper.
Related posts: