Early wearable technology has come in the form of clothing, such as shirts with sensors for monitoring sleep or exercise levels. But jewelry-inspired technology is starting to emerge as the next innovation in smart wearables. We told you about Ring, a smart device worn on the finger that can control mobile devices. Now another Kickstarter project from Philadelphia-based Beacon and Lively aims to add a smart bracelet to your jewelry collection with The Beacon, a metal cuff worn on the arm that can alert someone when he or she receives text messages or phone calls while away from a mobile device.
The idea for the Beacon was born out of a real-life experience Veronica Becker, Beacon and Lively's head of customer relations, had with her husband, company co-founder and head of product strategy, Dave Becker.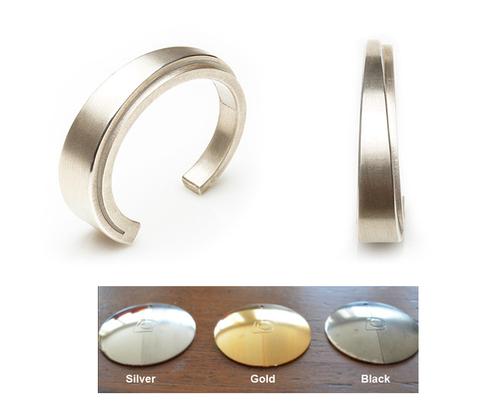 "Like all great ideas, we came up with it in a bar!" she says in an interview with Design News. "I was out with friends when my husband was trying to call me, with my phone in my purse. So of course I didn't receive his calls. When he showed up later at the bar, he asked why I didn't pick up my phone. That is how this idea was born."
The Beacon uses Bluetooth LE to tether to a mobile device and receive alerts from the device according to preferences for calls and messages. If a mobile device is within range, the bracelet will then notify users so they are aware of important correspondence without having to look at or dig out their phones, Becker says.
"You can set the preferences you like for the different alerts you receive," she tells us. "Babysitter might be a flashing red glow. Boss may be a green 'comet effect' that shoots around the bracelet. And of course, there is a 'movie theater mode' to turn off the illuminations and receive alerts only by vibration."
People can turn notifications from The Beacon on and off with a flick of the wrist or by tapping the cuff. The bracelet's battery lasts five days on a single charge. The device is also water resistant. People also can set different settings for VIPs and for people from whom they don't want to miss calls or messages.
Even though it serves a technological purpose, the makers of The Beacon see it as jewelry first, technology second, she tells us. "When you show this to your friends, we want people to say, 'look at my bracelet,' not, 'look at my technology,'" she says. "Comfort and fashion are first in our mind. We want this to be a daily use bracelet that can complement your individual sense of style. The cuff looks great on its own, or stacked with other bracelets." To make it a viable fashion accessory as well as a wearable piece of technology, Beacon and Lively worked with a local Philadelphia jewelry designer to create the cuff, which comes in silver, gold, or black metal options. The company will continue to work with jewelry manufacturers so the design can be rendered in a weight and style that is comfortable for users, she tells us.
She's also wearing the cuff herself to test its wearability. "I have been wearing the prototype for the last couple of months on its own or along with other jewelry, and it feels great," Becker says. "I tend to gravitate toward jewelry with simple, clean lines, and this exceeded my expectations."
Beacon and Lively is in the midst of a Kickstarter campaign to raise $120,000 to continue product development, she says. The money will go toward finishing some personalization features on The Beacon iOS app, as well as to deliver a similar app for Android, she says. The company aims to use the money to complete testing, as well as to design for the manufacturability of the bracelets so that they can be produced with both quality and an accessible price point, Becker adds.
Related posts: