Last December online marketplace Amazon.com unveiled a plan for a delivery system of drones that can deliver packages to people living within 10 miles of a distribution center. One of the reasons for that mileage limit is that the unmanned aerial vehicles (UAVs) the company plans to use only have enough battery life to cover that distance without recharging.
Researchers at the Computer Science and Artificial Intelligence Lab (CSAIL) at the Massachusetts Institute of Technology (MIT) think they've come up with a solution to this problem. Inspired by birds, researchers have developed a lightweight UAVs that can land and perch on a power line, paving the way for the possibility that the aircraft could recharge its batteries using power lines' magnetic fields.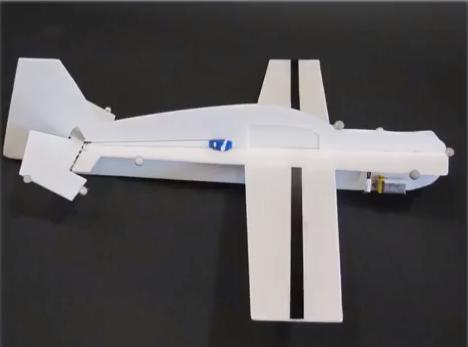 Joe Moore, a PhD Student at MIT's CSAIL, explained to Design News the idea behind the drone -- which is made of foam with carbon fiber-reinforced wings -- and how it may help Amazon. "Currently, Amazon's approach is to employ rotorcraft to deliver their packages, because rotorcraft can hover in place," he tells us. "However, fixed-wing UAVs are actually much better energetically, because they can use the lift generated by their wings to fly more efficiently. They also have the potential ability to exploit things like wind gusts and wind gradients -- much like birds do -- to improve their flight duration capabilities."
He and his research team, which also includes former PhD student Rick Cory and MIT Associate Professor of Electrical Engineering and Computer Science Russ Tedrake, used onboard sensors and a control system that can execute moves in real time to demonstrate a fixed-winged UAV that can slow down, tip its wings, and even hook onto a power line.
"With low-cost onboard sensors, we can agilely maneuver a fixed-wing UAV," Moore tells us. "Instead of having to rely on the hovering abilities of a rotorcraft, we could potentially land a fixed-wing UAV to deliver packages without needing a long runway." He and fellow researchers have briefly spoken with Amazon about using these type of fixed-wing UAVs instead of their planned octocopter rotor-based drones, but the company for now wants to stick with its plan, he says.
MIT still plans to go forward with development of its drones, which could be operational in two to three years, he says. The next step in the research is to accomplish reliable perching in windy environments. "Currently, the system can handle moderate wind conditions, but we have already started trying to extend our current control algorithms to allow it to perch reliably in the presence of larger wind gusts," he tells us.
Related posts: