The Japanese have long been early adopters of robots and are generally more comfortable with human-robot interaction than people in many other countries, including the US.
Indeed, Japan already has restaurants that feature robotic wait staff and has produced plays with robot actors, evidence of its early adoption of allowing robots to interact closely with humans.
Up until now these robots have seemed fairly machine-like in their appearance; there's no question that even while they are interacting with humans, they are definitely not people themselves.
But a museum in Tokyo is pushing the boundary between humans and robots even further with the use of humanoid robot guides that look, move, and speak eerily like humans themselves.
The Miraikan museum, or the National Museum of Emerging Science and Innovation, is featuring a new permanent exhibition of humanoid robots that will perform greeting and guiding duties at the museum. The unusually lifelike robots are the work of a Japanese robotics expert, Hiroshi Ishiguro, who has his own lab within Advanced Telecommunications Research (ATR) Institute International.
Ishiguro is an ATR fellow and world-class robotics engineer who's been designing robots for 20 years. His robots are well known for being close to human in appearance; he's even created one using himself as a model that he's sent to give lectures in his absence.
Three of Ishiguro's robots are featured at the museum to foster human interaction: Kodomoroid, a child android; Otonaroid, an adult female android; and Telenoid, an android without individual physical human features.
Kodomoroid and Otonaroid will act as guides at the museum, greeting and talking with people who visit. Specifically, Kodomoroid, which is controlled remotely, will announce news and information about the museum and its exhibits to visitors, while Otonaroid will strike up conversations with people who approach it. Telenoid will be on display for people to see and experience up close.
Click on the photo below to see the robots on display at Miraikan, as well as some of the other eerily realistic humanoid robots developed by HIL.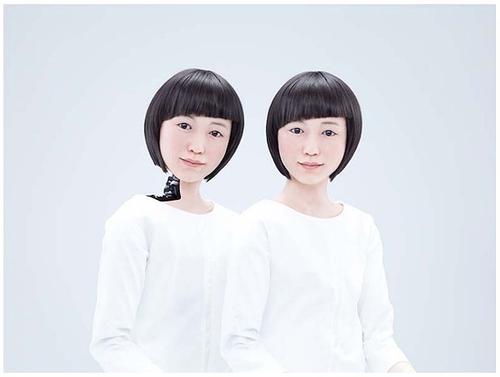 Related posts: