The alarming increase in school shootings in the US has prompted people to think seriously about better ways to secure school buildings and protect children.
To that end, a startup in Ohio called National School Control Systems has invented a device that can quickly barricade a door from the inside to prevent a gunman from entering.
CEO Bill Cushwa told us the Bearacade was born out of a series of school safety meetings after the fatal shootings at Sandy Hook Elementary School in Connecticut in December 2012.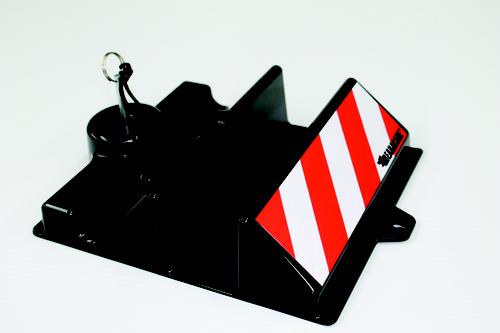 School officials, parents, and first responders convened "to identify a simple, effective, low-cost barricading method that did not violate the fire code or impede normal, customary operation of interior doors," Cushwa said. "There needed to be a solution in the hands of the faculty, staff, and students should a hostile intruder incident be forced upon a school."
Like a fire extinguisher, the Bearacade is mounted on a wall near the interior door of a classroom. The device itself, which looks like a slot used for holding envelopes, is made of a strong polymer-based material.
"When a lockdown is called, the room's occupants or teacher head immediately toward the door, remove the device from the wall, deploy the device under the door, insert the anchor pin, and rapidly move away from the door to remain quiet, still, and plan for next steps," he said. "In all, it takes approximately eight seconds to deploy the device."
National School Control Systems used an impact-modified polycarbonate material to make the Bearacade strong and able to withstand excessive force, Cushwa said. "The resiliency of the resin is so great that, when tested, the device retains almost 100% of its form, even after being shot by a 12-gauge shotgun at close range and an AK-47. Impact testing and applied slow force also demonstrate the strength of the device."
The company has been demonstrating the Bearacade publicly since November and has a number of interested customers, including schools, businesses, places of worship, daycare centers, and government offices in the US and Canada, he said. The device has not been used in a real-life threatening situation, but he is confident it could mitigate a threat if used properly.
Related posts: