Assemble-your-own robots are becoming pretty popular and easy these days, thanks to 3D printing and other home kits. Now researchers out of the Massachusetts Institute of Technology (MIT) -- one of the foremost institutions in robotics research -- have come up with a way to create robots that self-assemble when heated.
These baked robots are the work of MIT professor of computer science and electrical engineering Daniela Rus, director of the university's Computer Science and Artificial Intelligence Lab (CSAIL), who also gave us soft robots that move very similarly to fish, robotic cubes that self assemble, and other 3D-printed, self-assembling robots. It's no surprise she is at the head of yet another novel way to design robots that can put themselves together.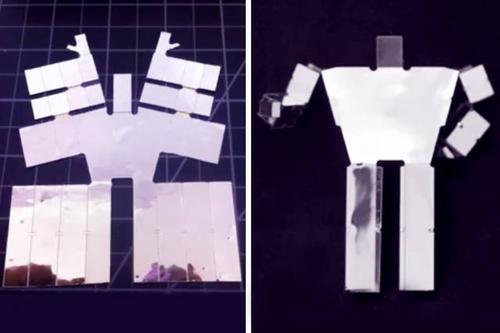 Rus said this latest research, begun about a year ago, was inspired by the idea of making robots more ubiquitous in the classroom and at home, especially as learning tools for children. "We are especially interested in education applications (e.g., rapidly creating robots that can be used as instruments in the classroom, one robot per child) and home applications," she told Design News, in an email.
Rus and her team published two papers on their research showing the promise of printable robotic components that, when heated, automatically fold into prescribed 3D configurations.
In one paper, researchers outline a system that takes a digital design of a 3D shape -- such as a CAD file -- and generates the 2D patterns that would enable a piece of plastic to reproduce the design through self-assembly when heated.
The other paper explains how to build electrical components such as resistors, inductors, and capacitors from self-folding, laser-cut materials. The researchers also describe designs for sensors and actuators that enable the movements of the robots. The idea of using heat to spur the robots into action came about because "it is an easy process that is broadly available," Rus told us.
To demonstrate the heating process, Rus and her team used an off-the-shelf toy invented in the 1970s, Shrinky Dinks -- a children's toy and activity kit comprising large flexible sheets that shrink to small hard plates when heated in an oven without altering their color or shape.
The next phase for the research, according to Rus, will be to integrate computation actuation and sensing into the process of developing the self-assembling baked robots.
Related posts: