Technology-enhanced glasses that track people's eye movements are helping the Cleveland Indians determine fans' interest in signs at the stadium when they attend baseball games.
The ball club teamed with Tobii Technology last year to conduct a study at Progressive Field, the team's home stadium, using the Tobii Glasses, which use infrared light to track exactly where a person is laying their gaze.
The Indians approached Tobii for the project when one of their new marketing team members heard about data-driven insights that can be gained through the use of eye-tracking technology, Barbara Barclay, general manager of Tobii North America, told Design News.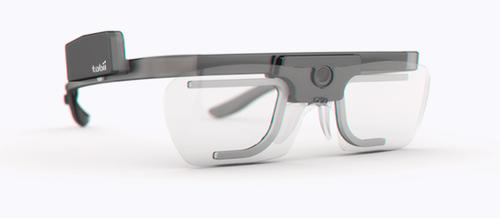 During the study, 47 fans were recruited over a three-day period in June last year to wear the Tobii eye-tracking glasses while they watched a game from different seating areas throughout the ballpark. The visual behavior of their fans -- that is, the places their eyes looked during the game -- was recorded in 30-minute samples.
Tobii Glasses work using what's called corneal reflection eye tracking, which involves illumination of the eyes with infrared light, Barclay told us. The near-infrared light of the sensors is similar to light found in the natural environment, such as candlelight, light from fires, and also from the sun, so the technology is of no harm to the human eye, she said.
The glasses are lightweight and worn just like regular eyeglasses, so they are not uncomfortable for the user, Barclay said. A thin cord connects the glasses to the receiver, which also is lightweight and clips onto a person's belt like an MP3 player.
"Two small cameras on each eye capture images of the eye and the resulting reflections are used to build an individual 3D model of the eye," she explained. "Subsequent eye movements can be exactly identified based on the reflections -- in this case, to know exactly where you are looking."
Indeed, the purpose of eye tracking is to measure a person's point of gaze as well as determine eye and head position, Barclay said. "Research that includes these measurements can be analyzed to determine visibility of and attendance to marketing and advertising," she told us. "Additionally, using pupil dilation and questionnaires combined with eye tracking, it is possible to determine both understanding and interest level."
As a result of the study, the Indians and Tobii developed a way to define media values for their fans' in-park viewing of specific signs. This has allowed the Indians franchise to quantify the fan attention that the main scoreboard and dynamic signage received within the ballpark, Barclay said.
In addition to use at stadiums and other venues to determine what signs people are looking at, eye-tracking technology can be used in stores to determine what products people are looking at on shelves, and in a number of other scenarios in product design, marketing, and advertising to determine behaviors and preferences, Barclay said. This data then can be used by product developers and marketers to enhance the usability of products and product marketing, she said.
Related posts: