A Massachusetts-based startup called Cognoptix has created a machine that uses a novel way -- through abnormalities in the eye -- to detect Alzheimer's disease earlier in its progression and more accurately.
About 500,000 people die from this debilitating disease annually, but earlier and more readily and easily available detection could allow people to take advantage of new clinical trials of medications and treatments that could be more effective in controlling the disease. It also could provide pharmaceutical companies with a competitive advantage in securing new Alzheimer's drug approvals, Ron Trahan, Cognoptix's public relations counsel and spokesman, told Design News.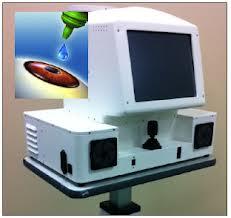 This early and easily available detection is where the SAPPHIRE II platform from Cognoptix comes into play. The platform uses the combination of a liquid contrast agent and a software-controlled optical device to detect beta amyloid in the supranuclear region of the lens of the eye, Trahan told us.
The founders of Cognoptix, Dr. Lee Goldstein and Dr. Leo Chylack of the Brigham and Women's Hospital in Boston, discovered that the presence of abnormal deposits of beta amyloid on the lens of the eye could be a biomarker for Alzheimer's. Beta amyloid proteins are responsible for the formation of plaques in the brains of Alzheimer's patients. "Through the post-mortem examination of Alzheimer's patients, the founders confirmed this link and determined the presence of complete or partial circumferential deposit of protein aggregates in the supranuclear region of the lens of (Alzheimer's) patients," Trahan said.
The device works by administering an ophthalmic ointment to the eye and using a proprietary Fluorescent Ligand Scanning (FLS) instrument to provide an "objective and quantitative measurement" of beta amyloid in the patient's lens, he said.
The test could be done in lieu of the positron emission tomography (PET) brain imaging that's used to detect Alzheimer's now, diagnosing the disease more quickly and less expensively. It also allows the diagnosis to be made in any physician's office, including general practitioners, Trahan said. Cognoptix is currently testing the device and seeking approval for its use in the US.
"The first indication for which Cognoptix is seeking FDA clearance is to utilize the system as an aid in the diagnosis of probable Alzheimer's disease in cases of subjects suspected of having the disease," Trahan said.
Related posts: