With medical devices that can be implanted inside the body becoming smaller and more sophisticated, researchers are trying to solve the problem of how to provide power to them without the weight or bulk of a typical battery. A researcher at Stanford University has come up with a novel way to send power to these devices wirelessly by using a new way to transmit electromagnetic waves.
Ada Poon, assistant professor of electrical engineering at Stanford, created a way to transfer power deep inside the body. The method is similar to wireless cellphone recharging. There it can provide energy for devices such as pacemakers, nerve stimulators, or some of a new breed of very small internal sensors and devices being developed. These might include sensors to monitor vital functions, electrostimulators to change neural signals in the brain, and drug delivery systems to apply medicines directly to affected areas.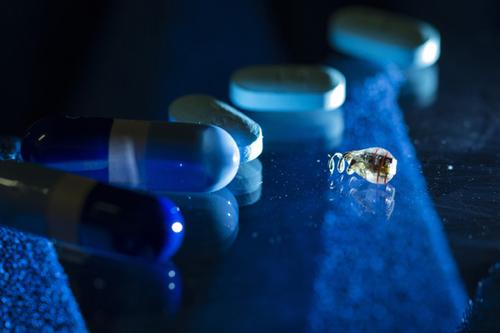 "We need to make these devices as small as possible to more easily implant them deep in the body and create new ways to treat illness and alleviate pain," Poon said in an article on the Stanford website. Indeed in a video about the research posted on YouTube, she noted that it's often the battery of medical devices that takes up the most space. She was not immediately available to discuss her work.
Her research relies on the use of far-field and near-field electromagnetic waves -- and a hybrid blend of the two different ways the waves travel. Far-field waves -- such as those broadcast from radio towers -- can travel long distances, but they either reflect off the human body or are absorbed by the skin as heat. Near-field waves, however, can travel inside the body, though they are hampered by their ability to travel only short distances.
She combined the safety of near-field waves with the travel distance of far-field waves by using the fact that the waves travel differently when they come in contact with different materials. With this as her guide, she designed a power source method -- which she called a "mid-field wireless transfer" -- that could generate a near-field wave that, when it moved from air to skin, could change its characteristics in a way that let it travel through material, according to the article.
This mid-field wireless transfer is the result of years of study by Poon to solve the problem of powering internal medical devices. She and her fellow researchers also published an article about their work in the journal, "Proceedings of the National Academy of Sciences."
In the experiment outlined in the article, she used her mid-field transfer system to send power directly to small medical implants. The system also makes it possible to develop tiny batteries for micro-implants that can then be recharged externally using the system. To do this, her team built an electronic device smaller than a grain of rice to act as a pacemaker. Holding a power source about the size of a credit card above the device outside the body recharges the device, according to researchers. This was tested in a pig and also used to power a tiny pacemaker in a rabbit.
Poon's task at the moment is to prepare the system for testing in humans before it can go through safety and other tests required to make it commercially available. That process will likely take several years, according to researchers.
Related posts: