BMW already is making a significant move in the electric vehicle market with its new i3 EV and i8 hybrid vehicles. To go even a step further, the automaker worked with a German photovoltaic (PV) technology provider to create a custom solar carport for charging its line of electric cars as well as provide power that can be used in the home.
BMW and Solarwatt, based in Dresden, Germany, have unveiled the Solarwatt Carport System, which includes a rooftop and a micro-generation system for households in addition to generating solar energy to charge the vehicles.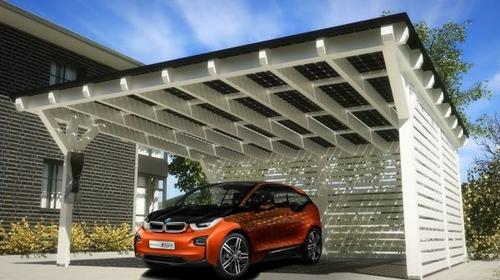 Solarwatt was already selling its own
solar carport system
-- designed by DesignWorks USA in collaboration with the company -- when BMW approached them to create one that was more customized for BMW vehicles and could be used for charging the car at home, said Peter Bachman, Solarwatt's director of business development.
"BMW was looking for an innovative full-service supplier of PV systems, which Solarwatt is," he told Design News, in an email. "Besides PV modules, (the company) is producing energy storages and energy-management systems, which perfectly fit into the philosophy of BMW."
The new system is part of BMW's 360-degree Electric Portfolio, which the company launched in 2013. One aspect of the portfolio is to provide charging at home of its EV and hybrid vehicles, which the new carport fits into.
The carport, which has been adapted for the BMW i3 and i8, features Solarwatt's glass-glass PV modules, which also can be placed on the roof of a home for more energy generation, Bachman said. A carport covering an area of 36 square meters and spanning two parking spaces generates about 4,500 kWh per year, which is roughly equivalent to the electricity requirements of a four-person household, according to Solarwatt.
If the electricity produced is only used for the electric vehicle, it can provide power for driving 32,000 kilometers with a BMW i3, the company said. If the vehicle only drives 15,000 km, the carport also could provide about 20% of household energy needs.
The carport itself also is made of a sustainable resource, bamboo, and customers also can monitor the energy being generated and its usage using the BMW Wallbox Pro and Solarwatt Energy Manager, Bachmann said.
Though the carport has been adapted specifically for use with BMW's i3 and i8 series vehicles, it also can be used with other EVs, he said. And even if a household doesn't have an EV or hybrid, energy from the carport can be used solely to provide solar energy to a person's home.
The price of the Solarwatt Carport System, which will be available in the second half of the year, has not yet been determined, Bachmann told us.
Related posts: