A new soft robot that moves like a fish represents a key breakthrough in the movements and safety of robots, according to the team at the Massachusetts Institute of Technology that designed the robot.
Researchers at the Computer CSAIL of MIT developed a robotic fish that can move more agilely and quickly than other robots previously designed to mimic the movements of fish.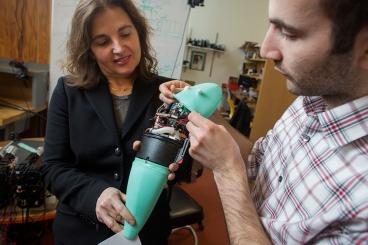 Indeed, while robots that move similarly to fish are not novel developments, this one is different in not only its rapidly realistic movements, but also because its design paves the way for the development of robots that can interact safely with animals and humans, Daniela Rus, MIT professor and director of CSAIL, told Design News in an email.
"We are very interested in soft robots because they are inherently safe and also because they provide us with a new approach to creating and controlling machines," she told us. "Soft robots are very compliant and interact with their environments differently than traditional rigid-bodied robots. In the future we would love to have our fish swim along with and interact with biological fish."
The robotic fish designed by Andrew Marchese, a graduate student in MIT's Department of Electrical Engineering and Computer Science, under Rus's tutelage, is made of soft silicone, which makes it less likely to cause harm or damage to anything it comes in close contact with, Rus said.
In addition to using this soft material for the body of the fish, the robot also is powered through actuation based on carbon dioxide and fluid, adding to its softness and flexibility, Marchese told us, in an email. Each side of the fish's tail is bored through with a long, tightly undulating channel. Carbon dioxide released from a canister in the fish's abdomen causes the channel to inflate, bending the tail in the opposite direction.
This design also allows the robot to move untethered with onboard power, something that also up until now was difficult to achieve with soft robots, he said. "To increase softness, we fabricated a large portion of our fish's body from silicone rubber and actuated the body using embedded fluid-filled channels," Marchese said. "A major feature of this work is that we bring onboard all the components the robot needs to run like the power, actuation, and control systems, making it fully self-contained. However, we are still able to achieve very rapid body motion. Previously, making a self-contained fluid-powered soft robot meant sacrificing performance, and these competing goals inhibited mainstream use."
The design of the robot allows it to perform a series of rapid escape maneuvers similar to what real fish do to avoid predators, Marchese said. "From rest, the robot energetically bends its soft body to as high as 100 degrees in several hundred milliseconds, allowing it to accelerate off in a different direction," he said. "Natural fish do a similar maneuver to escape predators in roughly 100 milliseconds."
Researchers are working on a new version of the fish that should be able to swim continuously for about 30 minutes; it could be used to infiltrate the natural environment of real fish to study and gather information about their behavior.
In this way, the design of the robotic fish could lend itself to the development of other robots that can work more closely with both animals and humans without posing a threat to them or their natural environment, Rus told us.
Related posts: