Inventions for people suffering from asthma, seasonal affective disorder, and arthritis are among those developed by the 2014 graduates of Drexel University's first Product Design Program. The program requires its senior class to create products that can solve real-life problems.
The 12 students who will graduate from the new program at the Philadelphia-based university used personal experience and interest to devise inventions for their final projects, which will be on display at Drexel as part of the program's senior show on May 30.
Drexel has a history of requiring graduating students to conduct a nine-month capstone project for their senior theses, as well as integrating applied education into normal studies, Drexel Professor and Product Design Program Director Mike Glaser, tells Design News. He says he began developing the new academic program six years ago.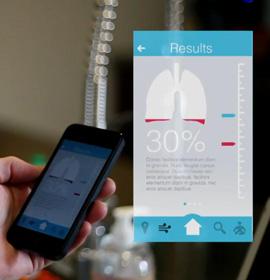 Glaser says this combination of practices gives the students more confidence as future professionals and also imbues in them a sense of civic interest along with hands-on design knowledge. "I feel that there is strength in taking on such hands-on projects," he tells us. "It challenges and engages the students, as well as showcases their talent and demonstrates that they can apply what they learned while at Drexel. It should help them compete in a very competitive world."
The public also wins when more well-rounded students with an idea of how to solve real-world problems enter the workforce with "empathy for the human condition," he says. "It makes for much richer solutions that will become integral to improving humans' lives," he says.
Among the solutions developed by the students is BREATHE, a two-part invention to help people with asthma from student Osman Cueto, who himself suffers from the disease. BREATHE is Cueto's redesign of a traditional inhaler to be more user-friendly based on personal experience from himself and others, he tells Design News.
"I redesigned in the inhaler based on a list of must, wants, and desires. That included slimming down the profile to make it fit more comfortably in a user's pocket, removing the cap by making a retractable mouthpiece, and using premium materials to fit a modern lifestyle," he says.
The invention also includes a mobile application that provides people using it with more information about their diseases. It tracks where the inhaler is located, when and where it's used, how much medicine is left in it, and when it needs a refill.