We've told you about research to use organic materials to harvest solar energy to build a more environmentally friendly solar panel. Now a research effort out of Europe aims to go even further by developing an entirely organic solar cell that can be produced at a low cost through a printing process and sold in the commercial marketplace.
The MatHero project, coordinated by Germany's Karlsruhe Institute of Technology (KIT), aims to use new materials and find green processes to synthesize solar cells and coat them with photovoltaic material, according to the institute.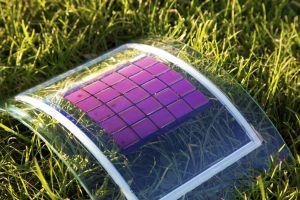 The European Commission has provided €3.5 million ($4.86 million) of funding for the project. Dr. Alexander Colsmann, head of the organic photovoltaics group at KIT's Light Technology Institute (LTI), told us in an email that the goal is to demonstrate a 500 mW organic solar cell for off-grid applications that is printed from eco-friendly materials and is competitive in terms of production costs and longevity with inorganic cells. Colsmann is coordinating the project with co-researcher Christian Sprau.
The key way in which MatHero will do this is to focus on processes for every aspect of developing a cell, including the creation of materials, coating, and printing, with printable polymer-based materials that can be made without chlorinated solvents, Colsmann said. "We mainly consider polymers. They exhibit good solubility and film forming properties -- both are important when utilizing printing techniques for solar module fabrication."
Researchers also are considering the use of other materials to develop the cell, such as metal oxides, as long as they can be printed, he said.
There are a number of benefits to developing "plastic solar cells," Colsmann said. "Organic materials offer unique properties and therefore enable solar cells for markets that cannot be addressed by other PV techniques. The organic solar cells are lightweight, mechanically flexible, and can have almost arbitrary colours. This makes them interesting in particular for building integration or mobile and automotive applications."
Researchers also plan to produce the cells with low-cost printing processes that will consume fewer materials and use less energy than traditional production processes. This will allow for inexpensive, high-volume cell production.
Even with these benefits, there are a number of hurdles MatHero project researchers must overcome. Cell energy conversion rates must be improved by more than 10%, and the cost of synthesizing materials for the cells must be reduced, researchers said. Moreover, the cells must be able to last more than 10 years to be commercially competitive.
Related posts: