3D printing has enabled some impressive new technologies, particularly in the field of medicine. Now a UK-based company has leveraged 3D-printed parts to develop a machine that can recycle blood from open-heart and trauma surgeries to be transferred back into the patient, reducing the need for external blood transfusions.
Brightwake Ltd. -- a company that historically has worked in textile and wound dressing production -- has collaborated with Stratasys Ltd. to use the company's Dimension 1200es 3D printer to create a machine called the Hemosep, which can collect blood spilled during surgery, concentrate the blood cells, and then transfuse them back into the patient.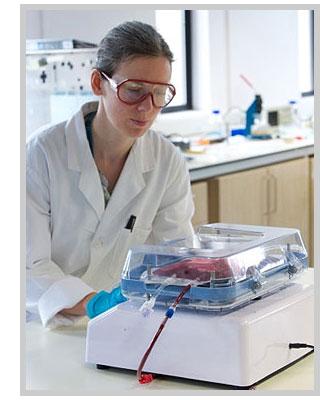 Hemosep is primarily designed for use during open-heart surgery, where there is a lot of blood loss, although the company also is developing a version for use with liver surgery, Brightwake managing director Steve Cotton told Design News in an email:
The spilled blood is sucked up and conveyed to the Hemosep machine where a special blood bag sits on top of a rocker. The rocker agitates the blood and pushes it up against the special Brightwake filter, which draws out the unwanted blood products. The filter captures all the good cells, which can then be transfused back into the patient in the normal way.
While 3D printing itself is not directly involved in the machine process, the Hemosep currently includes a number of Stratasys 3D-printed parts, including the main filtration and cooling systems. The investment in a Dimension 1200es printer has allowed Brightwake to test the system extensively in a surgical environment, Cotton said.
Brightwake is constantly working on new versions of Hemosep to increase its adaptability -- for example, a version that can be used on children -- as well as other new products. Previously, Brightwake was having to send designs for prototype components elsewhere, to have them produced. Each one took several weeks, cost £1,000, and put the company's intellectual property at risk. Having the capacity to do its own 3D printing has solved all these issues. Prototypes can now be produced literally overnight.
Brightwake eventually plans to produce the 3D-printed parts, as well as the rest of the device, from metal before it becomes commercially available.
The company has conducted more than 100 open-heart surgery operations in Turkey using the Hemosep, which has proven the machine's ability to reduce the need for blood transfusions during those operations. Brightwake is continuing surgical trials of the machine in the UK, Cotton told us.
One interesting angle to the machine's ability to recycle materials from a patient's own body is that it makes surgery less risky and even possible for people with certain religious beliefs that prevent them from receiving donated blood.
Even when donated blood is matched, there is the risk of an adverse patient reaction or slowed recovery. By recycling a patient's own blood, this risk is completely averted, which helps recovery times after surgery. Hemosep's unique ability to recycle platelets means that the risk of post-operative bleeding is also reduced.
Hemosep also alleviates the dependency of donated blood on the healthcare industry. For example, Cotton said Brightwake estimates that Hemosep could save the UK National Health Service £10 million a year. "Improved recovery times and less risk of post-operative complications also have the potential to shorten the amount of time a patient needs to be in hospital -- so freeing up beds and cutting costs."
Related posts: