We've told you about solar-energy-harvesting glass, and tiles that can harvest energy from people's footsteps. Now a project devised about eight years ago by an electrical engineer and his psychologist wife combines those two ideas with the development of solar panels that could one day pave our roads.
Scott and Julie Brusaw are the inventors of Solar Roadways, a project to develop solar panels durable enough to be driven on so they can replace asphalt or concrete surfaces of parking lots and roadways. Scott Brusaw has been envisioning the project since he was young, but he and Julie didn't begin work in earnest on developing solar panels tough enough to be placed in the ground until 2006.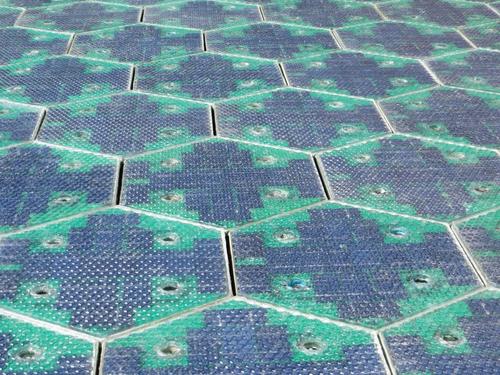 The Brusaws didn't immediately respond to comment about Solar Roadways, noting on their website that they are very busy with the project at this time. They did, however, describe their vision for the project, which is not only to derive energy from the sun but also provide lighting and heating elements for safer roadways.
"Suppose we made a section of road out of (durable) material and housed solar cells to collect energy, which could pay for the cost of the panel, thereby creating a road that would pay for itself over time," they wrote on the website. "What if we added LEDs to 'paint' the road lines from beneath, lighting up the road for safer night time driving? What if we added a heating element in the surface (like the defrosting wire in the rear window of our cars) to prevent snow/ice accumulation in northern climates? The ideas and possibilities just continued to roll in and the Solar Roadway project was born."
The federal government -- specifically, the Department of Transportation's US Federal Highway Administration -- was so impressed with the idea that in 2009, it provided the first of two phases of funding to the couple to develop a solar-paneled paving system.
To create solar panels that are durable enough to withstand not only being driven over but also environmental conditions like snow and rain, Solar Roadways created hexagonal panels of strong textured and tempered glass. The glass sits over solar panels that are sandwiched between the glass and a green circuit board. The system also has an underground cabling system called the Cable Corridor that will sit next to a roadway or parking lot.
Solar Roadways already tested the glass surface of its ground-based solar array for traction, load testing, and impact resistance, and phase two of its contract with the highway administration -- to build a prototype parking lot paved with the panels -- is nearly complete.
The project is currently on Indiegogo in an effort to drum up support for the production of the technology, which the Brusaws hope will lead to its commercialization.
Related posts: