The US Department of Energy is counting on wind power to meet 20% of the nation's power needs by 2030, up from 4% today. Advancing technologies play an increasingly critical role in developing offshore wind power. Last November, Clemson University unveiled the world's largest 15 milliwatt Wind Turbine Drivetrain Test facility to create new technologies for the energy market.
Today, the facility has expanded to include a grid simulation lab that makes it possible for manufacturers to test both the mechanical and electrical characteristics of their machines in a controlled environment. With this advanced testing center, companies can test a hardware prototype for any energy resource on a utility scale up to a massive 15 MW –- a first for the industry -– while also gauging the impact of adding this technology to the actual grid before deploying it.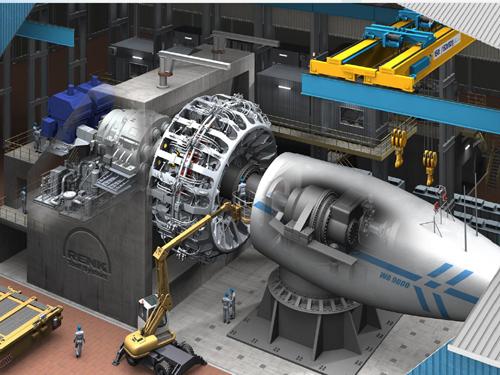 The facility is using National Instruments' integrated hardware and software tools as part of the brains of the wind turbine testing facility. "We work with a lot of national labs on big projects like this. NI's involvement runs from providing products and technology to actually developing products," Brian MacCleery, principle product manager for clean energy technology at NI, told Design News. "There were a lot of different roles NI has played with the Clemson University facility, from grid simulation to energy systems."
For one, NI is simulating the grid operation of the wind turbine. "The grid simulation has become one of the more interesting technologies for the industry," MacCleery told us. "We're also developing different pieces of the technology. It's not just for the drivetrain. We're also developing technology for the complex intersections between the turbine and the grid. We're testing it through all types of wind."
NI is also developing instrumentation systems for the facility. There are two main systems that are being developed: a turbine with 7.5 MW capacity, and one with a 15 MW capacity. Part of the testing involves determining the mechanical stresses on the turbine. The goal is to develop gearboxes for wind turbines that will last at least 20 years.
NI uses hydraulic replicators to model what the wind does to the turbine and simulate what the grid does to a turbine. "We can create scientific conditions to see the effect on the turbine," says MacCleery. "This e-grid facility allows us to do a teardown of the power electronics of the turbine to make it last much longer. One of the things that determines the life of the electronics in the turbine is the temperature cycle. Every time you heat and cool them, it takes away from the lifetime. A temperature swing of 100C will take a lot of life out of the turbine."
NI simulates the electrical grid to show what the turbine will be subjected to. The simulator shows all of the stresses and wear and tear. "A spike in the grid will cause tremendous mechanical strain as well as strain on the power electronics. The simulation allows us to test and validate the mechatronics."
The facility is located on the coast of South Carolina because of the size of the turbines. "There are no turbines in operation today that are this large, but that's where the industry wants to go," says MacCleery. "The largest turbines have to be offshore. Size limits the size of wind turbines on land because you can't drive this size of turbine down a road." He noted that the reason for the enlarged size of the turbine is economic. "The cost per watt comes down with size."
Related posts: