The Canadian energy company PowerStream has teamed up with GE on a microgrid demonstration project designed to raise public and consumer awareness about renewables and alternative energy sources.
Neetika Sathe, PowerStream's vice president of corporate development, told us it is deploying the microgrid at its headquarters in Vaughan, Ontario, to demonstrate how people can generate and distribute their own energy and make their homes and businesses more sustainable through renewables.
PowerStream is using the project to promote its own alternative-energy strategy and the strategies of other North American power companies. "Recent advances in renewable generation and Smart Grid technology provide an opportunity to develop strategies to improve the quality and lower the cost of electricity," she said. "The overarching goal of the project is to better understand how to provide our customers with additional safe, sustainable, and reliable choices for meeting their energy needs in the future, while adopting new, leading-edge technologies."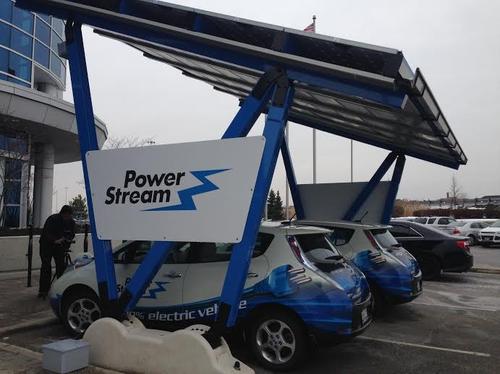 GE has provided engineering design services and its Grid IO Microgrid Control System (MCS) to help PowerStream build the microgrid. The grid uses a solar array, a solar car port with electric vehicle charging, a wind turbine, a natural gas generator, and energy storage devices, including GE's Durathon Battery and other lead acid, lithium-ion, and sodium nickel chloride batteries.
"These multiple generation sources provide electricity for non-essential loads such as lighting, air conditioning, and refrigeration at PowerStream's head office building cafeteria," Sathe said. "Electricity generated from this combination of clean and renewable sources is also used to power PowerStream electric vehicle charging stations -- which energize the company's fleet of electric vehicles -- and to maintain a steady charge in the microgrid's storage batteries."
PowerStream will use GE's MCS to gauge the efficiency and reliability of the grid and to determine when it is most economical to use the resources powering its microgrid or when the company must revert to using power from the provincial power grid.
The microgrid went live in November, and PowerStream is implementing it in two phases over a two-year period. Phase 1 focused on microgrid functionality while disconnected from the electricity distribution grid, along with the ability to operate independently from it and then reconnect seamlessly. During phase 2, PowerStream will consider other electricity sources, such as combined heat and power, fuel cells, and electric vehicle-to-grid technologies, Sathe said.
The use of renewable energy sources is becoming more prevalent worldwide, and microgrid installations are increasingly being considered as an alternative to the traditional energy grid in places where their deployment is feasible.
Sathe said it's important that companies like GE and PowerStream take leadership roles in showing the benefits of renewables and microgrids to consumers and other companies. "At the local level, microgrids increase reliability by reducing dependencies on the distribution system, since generation is located within the microgrid. This is most beneficial during times of high demand or when there are power outages, since microgrids are self-sufficient."
Because most of their generation sources are renewable, microgrids allow for reduced carbon footprints, she said, and they encourage economic growth through the provision of electricity supply via local, distributed generation.
Related posts: