A while back I wrote about a company in the UK that wants to send solar energy to earth from drone-driven power plants in the sky, but many readers were skeptical.
Well now perhaps the US Navy can give a similar idea more credibility. Researcher Paul Jaffe, a spacecraft engineer at the US Naval Research Laboratory (NRL), is developing an orbiting satellite with solar panels that could be assembled in space to beam solar power back to earth.
Jaffe already has built and tested a module that can capture and transmit solar power, according to the NRL. The module would work even on a cloudy day and at night, when solar panels on earth would be less functional or efficient, he said in a news release on the NRL website. He admitted that the idea seems a bit far-fetched, but it's "hard to tell if it's nuts until you've actually tried."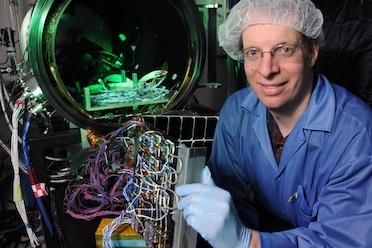 Tried and accomplished a couple of models for the technology is exactly what Jaffe has done. He has built two prototypes of what he is calling a "sandwich" module, in which one side receives solar energy with a photovoltaic panel while electronics in the middle convert that direct electrical current to a radio frequency. The other side of the module has an antenna to beam solar power away from it, according to the NRL.
Jaffe is testing the modules to withstand the elements of space in a vacuum chamber, where one module at a time can be exposed to the extreme cold of space and concentrated solar energy in the form of two powerful xenon lamps is the same spectrum as the sun. He also is testing how well it radiates heat by hooking it up to a series of wires.
One of the key design goals Jaffe is keeping in mind is weight, since it is expensive to launch mass into space. While the module already is quite lightweight -- Jaffe can cradle it in his arms -- one of the next steps of the research is to use a thinner voltaic panel and a flatter and lighter antenna to make the module even lighter, he said.
A future version of the prototype also might switch out the radio frequency board used in the sandwich models for what's called a monolithic microwave integrated circuit contained on a small chip, which would significantly lighten the payload to launch the module into space, Jaffe said.
Once a workable module is complete, the next step, and a big one, would be getting a series of them into space, where the solar array would be assembled by robots. To achieve this endeavor, the NRL's Space Robotics Group is exploring viable options. One key issue that must be solved for this idea to work is the scale of the arrays, which would be fairly grand, Jaffe said. "The most sobering thing about all of this is scale," he said.