A new 3D-printed smart device can alert doctors before a heart attack occurs. A research team in the lab of Igor Efimov at Washington University in St. Louis has developed a prototype for a stretchy, custom-fitted, implantable membrane that can give doctors feedback about irregularities occurring inside someone's heart.
The membrane would provide diagnostics and therapy, especially for patients with arrhythmia, allowing doctors to constantly monitor someone's condition and stop a heart attack before it starts, Efimov, distinguished professor of biomedical engineering, cell biology, and physiology, and radiology at Washington University in St. Louis, told Design News. The technology could also provide therapy to the heart as needed.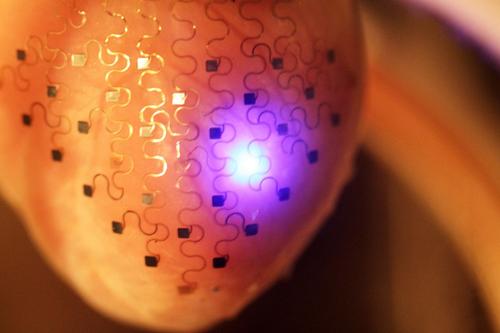 Efimov told us:
A cardiac device can be produced that is stretching with every heartbeat without affecting the heart's function while providing high-resolution diagnostic information about the heart and actuators for therapeutic interventions, such as electrical, mechanical, and other stimulators. This device can be shaped precisely as the patient's heart... based on medical imaging and 3D printing of the organ, which provides a mold for 3D membrane manufacturing serving as the base for the flexible/stretchable device.
Efimov and his team published a paper on their research in the journal Nature.
While researchers have attempted in the past to make devices with electrodes that could be implanted in a patient and send feedback to doctors, they have not been made of stretchable materials that could move as the heart moves, and thus damaged the heart muscle, Efimov said. What's different about what his team has done is to create elastic membranes shaped precisely to match the epicardium of the heart using 3D printing. This membrane, which essentially would envelop the heart in a form-fitting way, holds sensors and other electronic and optoelectronic components to provide feedback to doctors.
Examples of some of the components that would be included in the membrane include actuators for electrical; thermal and optical stimulation; and sensors for pH, temperature, and mechanical strain. Silicon, gallium arsenide, and gallium nitride co-integrated with metals, metal oxides, and polymers would be used as semiconductor and other operational materials for the membrane. These materials will be chosen for the membrane based on biocompatibility, mechanical properties, and long-term reliability. Biodegradable materials also may be used to allow the device to dissolve inside someone's body after a pre-determined period of time, Efimov said.
Efimov is currently focused on translating the lab's discoveries using a traditional implantable device approach and novel electrotherapy algorithms in the commercial market with his startup company Cardialen. The company, he said, aims to develop an ultra-low-energy atrial defibrillator for treatment of atrial fibrillation.
Once he has completed this work the next step will be to develop a commercial stretchable electronics platform similar to the one created in the lab, as well as other devices for treatment of atrial and ventricular arrhythmias, diagnostics of ischemic episodes, and progression or regression of heart failure. For that, the Washington University team will continue lab research, which is already supported by funding from the National Institutes of Health, and seek venture funding for commercial development, Efimov said.
Related posts: