Researchers in Canada have developed a chin strap that harvests energy from chewing and can potentially power a digital earplug that can provide both protection and communication capabilities.
Jeremie Voix, associate professor in the department of mechanical engineering at the University of Quebec in Montreal, and his colleague and research associate, Aidin Delnavaz, developed a strap made of a piezoelectric fiber composite material that can harvest energy to power in-ear devices.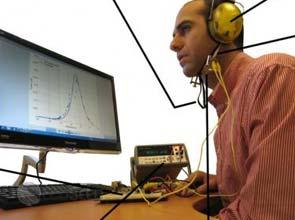 Voix told Design News the chin strap stemmed from research started four years ago on ways to power in-ear devices -- the goal of the work in the Sonomax-ÉTS Industrial Research Chair in In-ear Technologies, a partnership between the University of Quebec and Sonomax, a manufacturer of hearing protection products. They realized that chewing provided a considerable source of energy, and focused on ways to harness this movement to power devices. "When you're moving your jaw, you create huge displacement and pressure and forces within the ear," he told us. "We decided to use that as a source of energy for our devices."
The first iteration of such a device was an earplug within the ear that could be triggered by chewing. The earplug doubles as both ear protection against noise as well as a way to communicate.
The chin strap evolved from that as an application for people in jobs that require helmets -- such as first responders, firefighters, the military, or construction workers -- as a target audience, Voix said. "A lot of the people we want to protect against loud noise might be wearing safety helmets or hard hats, and might already have something under the chin," he said. "When they are moving their jaws, they push on that strap. So we decided to equip that strap with some piezoelectric materials."
To create the energy-harvesting strap, researchers replaced the typical nylon or fabric chin strap with something made of an elastic band and a piezoelectric fiber composite material that has long fibers that can generate electricity when they are being pulled," Voix told us. "This is tied to your action," he said. "When you move your jaw this creates pressure we need to create electricity. We also have electrodes connected to wires on the fiber that go up through a connection box to connect our energy and record the energy we are generating."
Currently, the chin strap can generate 15 µW to 20 µW of electricity, which is still not enough for the digital earplug. However, Voix said he expects to have a working prototype ready that can power the device in the next couple of months. "We are in a preproduction run of something that could be manufactured," he said.
In addition to the chin strap, researchers also are developing a way to embed piezoelectric materials in the earplug itself as another way to power it. They also aim to use a similar energy-harvesting model to power a next-generation artificial ear hearing device, Voix told us.
Related posts: