Star Wars: The Force Awakens won't be hitting theaters until December, but a new character has already stolen fans' hearts -- a beach ball-shaped droid named BB-8.
There was immediate speculation as to not only how the robot worked -- its head seems to defy the laws of physics, staying perched on top of the body as it rolls -- but if it was even real at all.
But Disney surprised everyone last April at the 2015 Star Wars Celebration, when a real, working BB-8 rolled out on the stage during a presentation:
Shortly after Disney announced that BB-8 toys would be coming to store shelves this fall. While BB-8 is a prop controlled by puppeteers in the film, in an interview with the New York Times Disney CEO Bob Iger credited the inspiration for truly bringing BB-8 to life to Sphero (formerly Orbotix), a Colorado-based toy start-up that produces a small, smartphone-controlled, ball-shaped robot of the same name.
On the surface Sphero looks like a plain white ball, but tucked inside its innocuous package is a robot that is inspiring kids, teachers, and hackers with its open source app interface and versatility. And as company co-founder Ian Bernstein will attest, creating a robot capable of inspiring the folks as Disney isn't an easy task.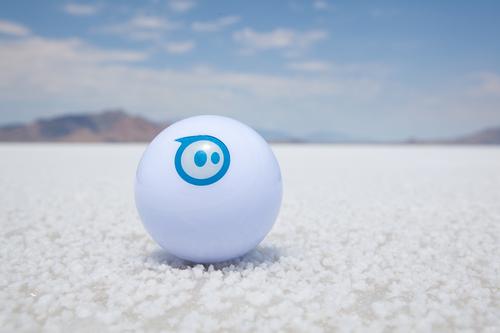 Bernstein, a New Mexico native, was home-schooled from a young age and has spent the majority of his life around robotics. He got his start at age 12 working with BEAM (Biology, Electronics, Aesthetics, and Mechanics) robots and was also mentored by BEAM's inventor and renowned robotics physicist Mark Tilden. "All I did was build robots all day," Bernstein told Design News.
Fast forward to 2009. While working at a Colorado robotics company and studying at Colorado State University, Bernstein happened upon the idea to develop a robot that could be controlled via a smartphone. "One night I was playing with my iPhone and I thought, this thing is really powerful, why can't I use it as the brains of these robots?" he said.

It was about this time that he met Adam Wilson, with whom he would later co-found Sphero. The two began collaborating on smartphone-controlled applications such as home automation and remote car starters and eventually attracted the attention of TechStars,
a competitive start-up accelerator program.
Their relationship with TechStars would eventually lead to Sphero's involvement with the Disney Accelerator program, a mentorship program for tech companies, where they would be discovered by Iger.
But before any of this they needed a killer idea that would beat out their competitors at TechStars for seed funding.
"We thought of hundreds of ideas and it really came down to (the fact) that we needed something simple," Bernstein said. "It had to be something I can pull out of my pocket, throw on the table, and have it do something interesting."
"We liked the ball because its an approachable form factor," Bernstein added. "When you pull a Sphero out anywhere in public people aren't afraid of it in any way. They're really curious about it."
For Bernstein and his team the sphere shape is the ultimate tabula rasa. "It's really an open field for apps," Bernstein said. "A car-shaped robot, for example, is very limited because people know what a car is. But with a ball it's very easy to imagine it doing different things. As soon as people make a robot look like something familiar, say a dog, it won't live up to the real thing."
The company has embraced the maker community and encourages users to hack the Sphero. This group found a way to give the robot embedded vision capabilities.