Wind turbines already are imposing structures that stretch high into the sky, but an engineering graduate student at the University of Notre Dame wants to make them even taller to reduce energy costs and improve efficiency.
Yanlin Guo, a postdoctoral fellow at the university, has proposed the design of a 150-meter (about 492-foot) turbine that can ultimately produce more energy than the technology in use today, she told Design News. Typical turbines are 80 meters, or about 262 feet.
"Taller towers not only allow us to reach stronger and more consistent wind energy at higher elevations, but also permit the installation of turbines with longer blades --more than 60 meters (about 197 feet) ," Guo said.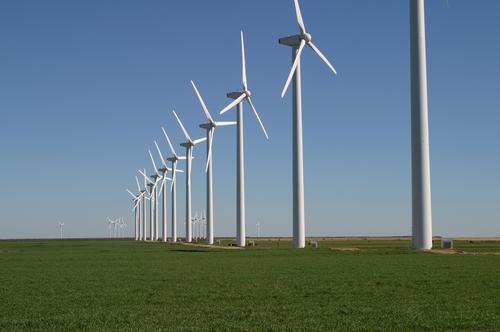 The combination of these improvements will allow for more energy to be generated, thus driving down the cost of wind energy. Raising wind turbine tower heights also would increase the amount of land area that could be developed for wind turbines by 54%, increasing it by an additional 13% to 67% if the tower height reached the 150-meter range Guo is hoping for, according to researchers.
Challenges to designing turbines at that height include the need to reduce wind impact on the tower and increase the dynamic stability of the structure when being buffeted by higher winds. To overcome these challenges, Guo and the research team -- which includes Ahsan Kareem, the Robert M. Moran Professor of Civil & Environmental Engineering & Earth Sciences (CEEES), and Yahya Kurama, professor and associate chair of CEEES --nused pre-stressed and pre-cast high-strength concrete as the base material for the tower.
"Pre-stressed concrete can overcome tension weaknesses of concrete, resulting in highly efficient structural systems," Guo explained. "And the pre-cast technology allows pre-fabrication of smaller structural members in factories, which leads to great reduction in transportation costs and also better quality control. Typically, the wind turbine towers are made of steel and current industry-standard steel towers will not be cost-effective if going taller."
READ MORE ARTICLES ON WIND TURBINES:
Guo told us she designed the individual structures of the tower to have very simple geometry, making the fabrication of the turbines -- which are aimed for use on land -- cost-effective."
A grant from ND Energy, the Center for Sustainable Energy at Notre Dame, funded the work, which Guo said will continue with further optimizations to the shape of the wind turbine tower to "enhance the efficiency of the structural system of the tower through numerical study." After improvements are made, researchers will conduct large-scale laboratory experiments to test their performance.
Elizabeth Montalbano is a freelance writer who has written about technology and culture for more than 15 years. She has lived and worked as a professional journalist in Phoenix, San Francisco, and New York City. In her free time she enjoys surfing, traveling, music, yoga, and cooking. She currently resides in a village on the southwest coast of Portugal.