Wastewater from sewage and industries such as beer and wine making has been treated for years to prevent environmental contamination. But now a Boston-based company has developed a way to turn wastewater into electricity to create a more sustainable way to power plants that treat it. EcoVolt from Cambrian Innovation is a unit about the size of a shipping container that uses bioelectrochemistry to treat wastewater.
The company's founder, Matt Silver, came up with the method EcoVolt uses while completing a PhD in engineering systems at MIT. His research involved developing a water treatment solution for NASA, a project that led to the design of Cambrian's solution.
The process developed by Silver, called electromethanogenesis, is applied to the water in the EcoVolt unit after it goes through its usual treatment. During the process, electrically active organisms convert carbon dioxide and electricity into methane fuel. Biologically coated electrodes in the reactor rapidly convert organic pollutants into electricity and subsequently convert electricity into methane fuel.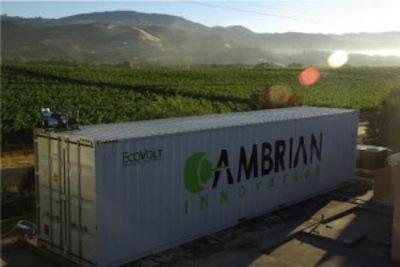 This methane fuel then can be used to provide energy to the wastewater treatment facility, making it overall more energy efficient.
A video posted on Vimeo shows how the EcoVolt box and process works.
Cambrian initially is targeting the beverage industry with EcoVolt because it produces a lot of wastewater with a high biological oxygen demand (BOD) load and so has a high potential to create energy. This industry also requires a lot of electricity to manufacture its product.
To that end, the company recently signed on a California-based brewery to use the system. Bear Republic is using electricity generated by EcoVolt to power more than 50 percent of the facility's requirements, according to Cambrian.
Cambrian also is working with Lagunitas brewery to install systems on site, and has also launched pilot programs with wineries in California, including Clos du Bois.
Other industries that are well suited for EcoVolt include agriculture and food processing, according to the company.
As Cambrian builds its customer base, the company also is continuing to develop other water-management solutions with its research partners, NASA and the National Science Foundation.
Related posts: