We've told you already about the Ring, a finger device being developed by Logbar Inc. in California to control mobile devices via gestures. Another research team is working to bring gesture recognition to myriad devices, but it is taking a different approach.
Computer scientists from the University of Washington (UW) have developed a sensor -- the prototype is called AllSee -- that can be attached to devices such as smartphones and will allow users to control these devices through hand movements.
Bryce Kellogg, a UW doctoral student in electrical engineering and one of the researchers on the project, told us the system uses TV signals as both a power source and the technology that can detect gesture commands. In this way, the device's power source is self-sustaining and does not need a battery.
AllSee "works by detecting changes in ambient wireless signals, such as TV broadcasts, caused by your hand and arm as you perform gestures," he said. "These changes in the wireless signals are detected using a small antenna and passive, low-power circuitry. There is a unique pattern to these changes for each gesture."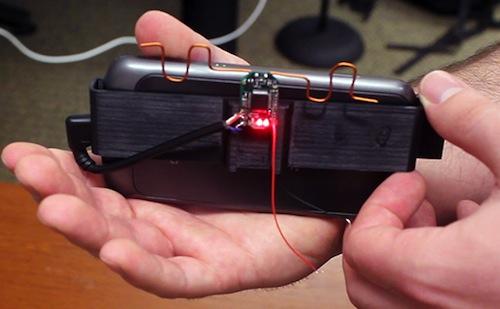 The team has developed eight gestures -- such as pushing or pulling to zoom in and out -- which the device has recognized about 90% of the time when performed about two feet away. The team tested it to see whether it can distinguish between motions directed at the device and other motions (it can) and how quickly it responds to gestures. Typically, the technology responds in less than 80 microseconds, or 1,000 times faster than it takes to blink an eye.
The UW team posted a YouTube video demonstrating how AllSee works.
Kellogg said attaching gesture control to devices, rather than requiring people to wear a ring, is more convenient in some scenarios, "such as home environments where the users typically do not feel comfortable wearing devices on their body."
Researchers see gesture recognition technology as the next wave in interacting with devices, because it is more natural than current modes of device control. "Instead of having to push buttons on a screen or remote, you can make hand motions that feel much more natural and intuitive. "This is how we interact with the real world and each other, and it is how we should interact with our devices."
Some devices, like the Samsung Galaxy S4, have built-in gesture recognition technology, but there are drawbacks. For example, the technology drains the battery quickly, and devices must be within a user's line of sight. Devices like the Ring like AllSee aim to solve these issues and make the technology ubiquitous, but they are still in their early stages of development.
To promote the technology's development, the UW team is working to increase the AllSee gesture set and expand its functionality to leverage wireless signal sources such as WiFi, Kellogg said. Researchers also are in talks with smartphone manufacturers and companies focused on enabling the Internet of Things to see how they might commercialize the device.
Related posts: