One of the problems drivers of delivery trucks across the United States face is losing battery power during a long day of deliveries -- a problem so common that they will often leave their trucks idling even when they are not behind the driver's seat.
Now Maxwell Technologies -- a long-time manufacturer of ultracapacitors and supercapacitors -- is offering a solution to this problem. The company is launching a version of its Engine Start Module (ESM) -- the ESM Ultra 31/900 -- for Class 3 to Class 6 trucks, which are typically those used for deliveries around cities. The product can replace one of the truck's batteries to provide the energy for its starting function.
"These [modules] take over the starting event," Chris Fischbach, OEM and distribution sales manager for Maxwell Technologies Engine Start Group, explained to Design News in an interview. "One of the advantages is you will never need a jump start."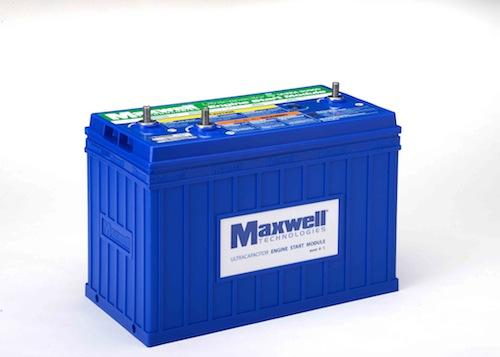 One of the truck's functions that draws a lot of power from the batteries -- of which Class 3 to 6 trucks typically will have a few -- is the lift gate on the back of the truck. As a day of deliveries goes on, this often can kill battery power, he explained.
"This is a very common problem," Fischbach said. "It's catastrophic when a truck driver has deliveries to make and appointments to keep."
To combat this problem, drivers often will let their engines idle even when they leave their trucks to make deliveries, but this burns fuel as well as causes pollution, he said. "For the latter reason, some states have created laws banning idling, so then drivers run the risk of getting a ticket," Fischbach said.
This problem is what the ESM Ultra 31/900 can solve. The key difference between a supercapacitor like ESM and vehicle batteries is that a battery accepts a charge very slowly and releases its power very slowly, whereas an ultracapacitor accepts a charge very quickly and releases its power very quickly, he said. This allows it to maintain its charge far longer than batteries do, and recharge very quickly -- in 15 minutes or less.
The new ESM offered by Maxwell performs on all engine cranking and comes in the industry-standard BCI Group 31 form factor, which means it will easily fit in the spot of a typical battery of a Class 3 to 6 truck. All that has to be done to use the product is remove one of a truck's batteries and replace it with the ESM Ultra 31/900, Fischbach said.
The new ESM provides reliable engine cranking from -40F to 149F (-40C to 65C) in diesel engines up to 9.9L, and comes with an unlimited four-year warranty.
Maxwell is targeting owners and manufacturers of large fleets of Class 3 to Class 6 -- such as Peterbilt Motors, International Trucks, and Freightliner Trucks -- with the ESM Ultra 31/900. The company already offers an ESM for larger trucks.
The new product should be available by mid-April and cost around $1,000, although a set price has not yet been determined, Fischbach said.
Related posts: