In the Lord of the Rings books, a magic ring is believed to hold great power. A Kickstarter project called Ring doesn't exactly hold the same promise, but its developers say the thick piece of metal (worn on an index finger) will allow people to control all their smart devices.
The San Carlos, Calif., startup Logbar Inc., which developed the Ring, set a fundraising goal of $250,000. It has already raised $397,763 with 31 days to go. The popularity with backers is not because it's a pretty trinket. This device contains sensors and other electronics that allow the wearer to interact with other devices through hand and finger gestures and wireless connectivity.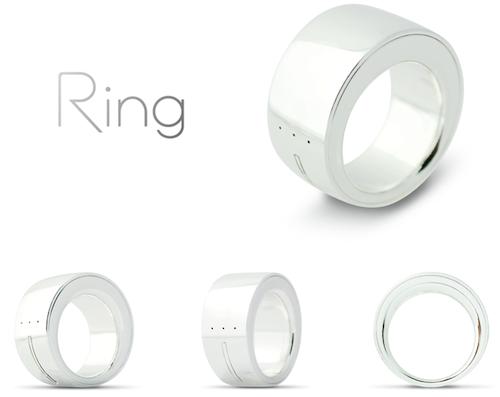 "We think that Ring will be the next input device -- no more keyboard, mouse, and touch screen," Logbar CEO Takuro Yoshida told us in an email. He wouldn't say more about the device, but the Kickstarter page explains in detail how it works to "shortcut everything."
The Ring is activated by tapping the touch sensor on the side. Onboard sensors detect finger and hand gestures. Certain gestures can emulate using device controls, and there are specific presets (which the user can change) for common things people do with their smart devices, such as playing music, taking a picture, or viewing messages. Users can input text and numbers by forming letters or numbers with their finger in midair.
A single hand gesture allows a person to use a wireless payment gateway with the Ring, which connects wirelessly to other devices and applications through Bluetooth Low Energy. The device alerts users to incoming messages or other transmissions through vibration and LED.
The Ring requires an iPhone, iPad, or iPod Touch with iOS7 or higher, or an Android device with version 4.4 or higher. The developers say support for Windows Phone is imminent, and so is a Ring Hub that will allow the Ring to communicate with noncompatible devices, such as smart appliances. The Ring's nonreplaceable, rechargeable battery can support 1,000 gestures on a single charge, according to the project team.
Logbar has completed the programming of gesture analysis technology and the hardware and electronic circuit designs, and it has a factory ready to mass produce the device. It will use funds from the Kickstarter campaign for mass production, advertising, and other general expenses, including international licensing.
Logbar is planning to begin shipping the Ring in July.
Related posts: