Four seniors at Cedarville University in Cedarville, Ohio, are building and testing wooden bicycles for a capstone engineering project. The team's capstone instructor, Jay Kinsinger, assistant professor of mechanical and biomedical engineering, shares his students' interest in wooden bikes. Kinsinger has been building wooden bikes for four years, riding them across America and Europe. He built a folding tandem wooden bike that is on display at the Bicycle Museum of America in New Bremen, Ohio.
According to Kinsinger, wooden bicycle frames are tough, lightweight, and beautiful, with infinite design possibilities. He noted that the bikes get attention because they look different, but more importantly, it's the smooth ride and the fun of building the bikes that captures the students' imagination. "They are beautiful, but that's the least important reason to build one. They're nice to ride, since wood dampens the road vibration," Kinsinger told Design News. "The wooden bikes are comparable to an aluminum or lightweight steel bike."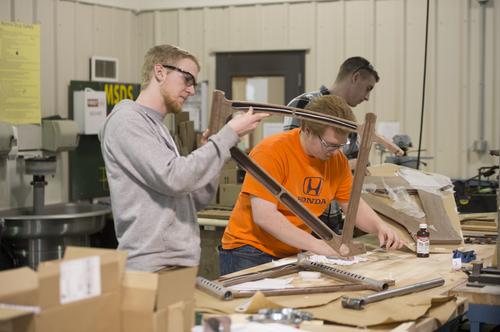 Currently, the student team is using walnut to build their bikes. "Walnut is a stable wood, and it has been used for centuries for gunstock. But walnut is not the only wood we could use," Kinsinger told us. "There are strength and weight considerations in choosing the wood. Some woods, like cedar, split easily. Cedar is inherently going to split. That's good for shingles, but not for bikes. Some woods are heavier than walnut. They can be like a brick." Price is another consideration when selecting wood for the bikes. "Walnut is not expensive where we're from. They sell it for $4 a square foot," he said.
Kinsinger also noted the bikes are not difficult to build. "Anyone could build one. You use common shop tools. It's within the reach of the woodworker," he said. The important part of the project is for students to apply engineering tools in new ways to meet the challenge of creating a strong, durable bike. "Their engineering work is intended to eliminate guesswork from the building process. Each frame takes hundreds of hours to build, and weaknesses may easily remain hidden."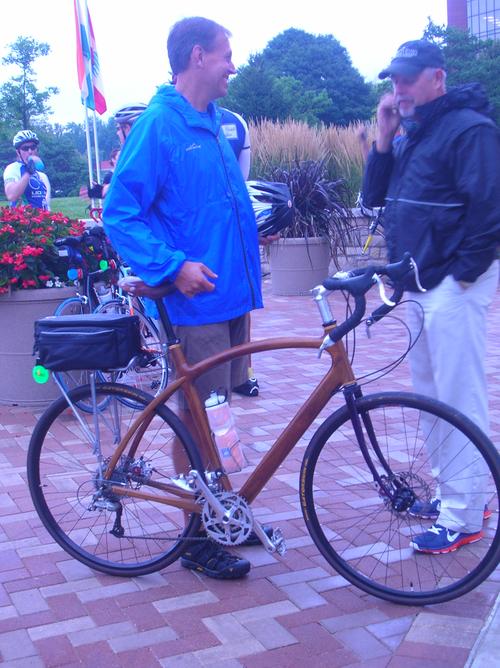 The students conduct extensive tests on materials to avoid hidden weaknesses. The team sends completed frames to a bicycle test lab for further tests of strength. The point of the project for the students is to develop engineering skills, not to build bikes for their own use. "These mechanical engineering students are making test bikes that we will destroy in the process of testing them," said Kinsinger. "They have developed the skills to build the bike, but they're not necessarily building their own bikes for the course. They do take away the skills to build their own bikes, though."
For Kinsinger, the value of the course is the testing experience it provides for students. "It's a real-world situation, so there are no answers at the back of a textbook. Students have to create their own testing," he said. "That stretches them their capabilities. They learn that engineering has to be a creative endeavor. They have to evaluate the material. Wood varies in a 3D way. It's a challenge to evaluate wood."
Related posts: