Fort Carson, Colo. — Just south of Colorado Springs is an Army base that includes 10 different military units and more than 19,000 personnel. It is also home to the Army's largest solar array, a 2 MW installation that covers 12 acres and produces 3,200 MWh of energy annually.
This solar array is one of a number the Army has deployed in the US at its installations as part of a push to adopt more renewable energy sources of energy to replace the Army's traditional reliance on fossil fuels and traditional energy sources. "It's really picked up in the last few years, from testing and evaluation to large-scale deployments," Richard Kidd, deputy assistant secretary of the Army for energy and sustainability, told Design News. "It reflects the changing cost structure and value proposition of renewable energy solutions."
Not only does the Army use the solar array at Fort Carson as part of a microgrid for delivering power to facilities, it also has a large vehicle-to-grid bidirectional charge project to charge batteries on electric trucks the military has at the installation, Kidd said. "We have Smith electric trucks and Boulder electric trucks that have relatively large battery capacities. During the evening at low-use hours, the battery is charged [from the grid]," he told us.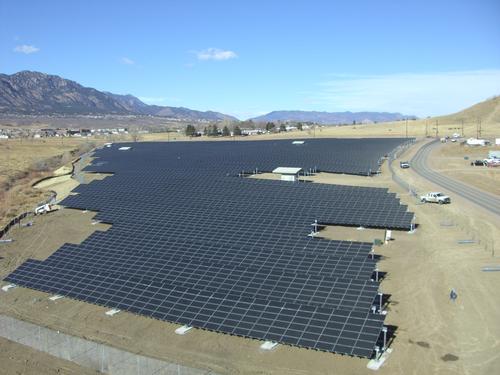 Change is afoot>br /> The Army's reason for this change in energy policy -- which involves not only adopting solar energy as part of its installations in the US but also to provide energy to soldiers in the field in Afghanistan and Iraq -- is not merely for research purposes, even though the DoD has been involved in solar research since the energy first rose to prominence in the 1970s.
The move is based on the usefulness of solar energy to the Army's overall mission and goals and how it can contribute to achieving them. "We're not deploying solar panels just to deploy solar panels," Kidd said. "People need to understand that... while we have a big effort in renewables, it's not just to do it but because it's valuable to our mission."
There are several ways solar supports some of the Army's current energy goals. One is to cut costs, which solar certainly achieves. When it deploys solar arrays for microgrids, the Army enters into long-term purchases agreements -- providing the land and a long-term demand for power through the agreement -- of up to 30 years, Kidd said. In this way, "we are able to lock in utility rates that are at or below grid parity, so it saves us money," he told us.
A weight off soldiers' backs
Another reason for using solar power is more tactical. The Army has been exploring numerous ways to relieve the burden of equipment on soldiers in the field to make it less strenuous for them to travel by foot, as well as increase their speed and agility. One of the Army's solar efforts also is to this end, Kidd said. Infantry squads in Afghanistan are carrying with them a portable solar-based charger of "flex-film solar panels" that they use to recharge their batteries. "What this has done is allowed us to reduce the battery weight on the individual soldier by more than 30 percent," Kidd said. Typically, a soldier carries about 14 pounds of batteries, but with the use of the solar panel to charge batteries soldiers now carry about 9.5 pounds.