According to Dr. James J. Truchard, PhD, president, CEO, and co-founder of National Instruments, technology companies are no longer competing just one-to-one. They now have to compete ecosystem to ecosystem. Affiliations, alliances, and partnerships have become a critical part of the overall value of a tech company.
Affectionately known at Dr. T., Truchard picked up the highest honor given out by Design News -- The Lifetime Achievement Award -- last week at the Pacific Design & Manufacturing Show in Anaheim. In his acceptance speech, Truchard praised the Design News Golden Mousetrap Awards for recognizing cutting-edge new products. "It's important that technology is recognized," said Truchard. "Science and engineering plays in our quality of life." In his talk, he also revealed his motive for founding his billion-dollar company. "I started National Instruments to create the job I wanted."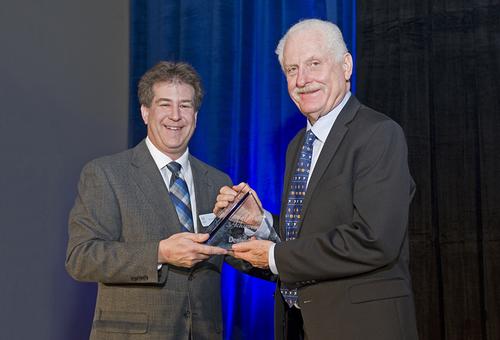 Truchard has been praised by his fellow National Instruments executives for keeping the company focused and stable during its rapid growth over the past couple decades. In an interview with Design News before the awards ceremony, Truchard explained the company's focus. "We have creative people, so we have to define and direct a vision. All of the pieces have to fit into a platform," Truchard told us. He explained that the company can go anywhere with the platform as long as it stays in the direction of the vision. "It doesn't have to be a certain technology we introduce, but it has to fit into our ecosystem. It's an ecosystem we've built over years," he said.
Truchard noted that the goal of National Instruments is to "stay ahead of the curve in order to keep a strong brand." He noted that staying ahead of the curve involves bringing partners into NI's technology world. "We work with 7,000 universities that are using our technology and doing research. That's part of our ecosystem," said Truchard. "Our ecosystem gives us a platform where you can build something new."
He said technology companies need to engage with partners and build alliances in order to strengthen their technology and their place in the market. "The ecosystem ties us to the bigger world. It's the same as what Apple did to get the iPhone to a million apps," said Truchard. "I asked how Steve Jobs did it at Apple. The answer is that he surrounded himself with people who got it. They understood the technology, but they also understood what the customer wanted."
Truchard believes tech companies are evaluated by their connections these days. "Technology companies are now competing ecosystem to ecosystem," he said. "The customer now expects you to have a complete set of technology that includes alliances and partnerships. You have to have a big view and reach out to the world."
Related posts: