There were a lot of exciting technologies on display at last week's Pacific Design & Manufacturing, MD&M West, and WestPack shows (among others) in Anaheim, Calif.
One of the best things I came across was at the Stratasys booth -- a 3D-printed face that had the texture of real skin. It was hand-painted -- which made it look very realistic -- and many people would do a double take when they walked by.
Another booth that had people crowded around it was Stäubli's. They used one of their industrial robot arms to play a game with the crowd. Using a push button, you pick a particular die and the robot arm spins a wheel. If the wheel lands on the die you picked it throws you a poker chip over the glass enclosure. If it did not land on the die you picked it swings around to you and motions back and forth as if to say, "no, no."
Click Stratasys's face below to see some highlights from the show floor.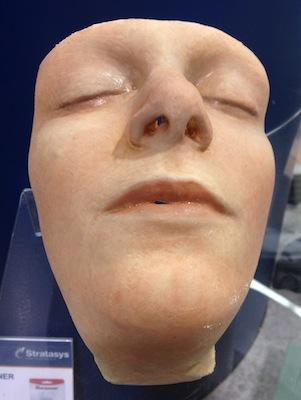 Related posts: