Once the topic of debate about its validity to the workplace, telecommuting has now become an integral and sometimes even necessary part of the modern work style. But even though telecommuting is widely accepted and sometimes the preferred method of working in an office, there are still times when a person's presence is required on the worksite.
Enter Double Robotics, a company that has developed an iPad-driven telepresence robot that allows someone to be present in an office virtually, if not physically.
Silva Galstyan, Double Robotics' office manager, said its founders David Cann and Marc DeVidts came up with the idea for Double when they were developing an iOS accessory toy for kids. "(They) needed a better way to communicate with the manufacturer and have a daily physical presence without the need to travel overseas," she told Design News. "Double was the solution."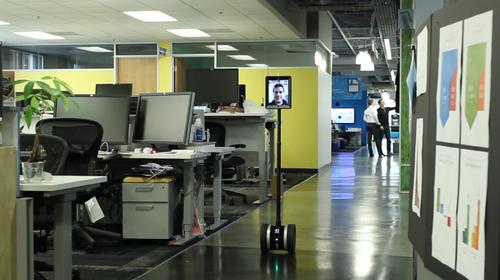 A person can "drive" Double from any iOS device. The robot actively balances using a gyroscope and accelerometer, combined with a motor control algorithm developed by the Double Robotics team, Galstyan told us.
In the interests of security, video and audio through the Double application is encrypted end to end with 128 bit AES, and goes directly from the iPad to the driver without being stored or recorded.
Double has been on the market since May 2013 and sells for $2,499.95. It's available through the Online Apple Store and through various distributors in the US, Japan, Portugal, Korea, and Canada. "We've shipped 1,000-plus units to customers over the past nine months," Galstyan said. Most of the current customers of Double are full-time or part-time telecommuters that use Double to telecommute, many for hours at a time and every day. "We recommend that remote workers plan to be on their Double for three to four hours per day," she told us. "This seems to be enough to keep up with co-workers, while the telecommuter can still enjoy the benefits of working remotely."
Double isn't just a friend to the remote working community, however, Galstyan said. "There are a number of schools using Double to enable students to attend class while stuck at home for an extended time due to illness," she said. Hospitals also are experimenting with Double to give doctors a telepresence with patients so they can "visit" them more frequently than a physical presence currently allows, she said. This use is akin to another medical presence robot on the market -- the Remote Presence Virtual+Independent Telemedicine Assistant, or RP-VITA from iRobot and InTouch Health -- that allows doctors to check in on patient bedsides without actually having to enter the hospital.
Other uses for Double include conferencing attending, the showing of real-estate properties, and warehouse inspection, to name a few, Galstyan said.
While initial use of Double in an office environment does disrupt things a bit, she said that the novelty eventually wears off and people begin to view and treat the robot as they would the person using it, and allows them to work more closely with their remote co-workers. "People begin to see it as 'Joe' or 'Susan,' just as if they were physically in the office," Galstyan said. "The remote workers tell us that they feel more connected to their co-workers and more informed about their current team projects."
Related Posts: