Looks like North America has once again become a prime location for manufacturing. Researchers at A.T. Kearney have been studying reshoring and how it affects companies in all phases of decision making. The researchers have identified several forces that are driving companies to keep their manufacturing in North America or actually bring it back from Asia.
The top reason is the time involved. Weeks of shipping means companies have to maintain additional inventory. Another factor is the cost of shipping. While domestic energy costs have come down in the US, the price of shipping is still high. Wages are also rising in Asia, plus the quality of goods produced in Asia has become an issue.
All of these factors are making reshoring an attractive option for manufacturers, so the decision on whether to bring manufacturing back to the US after decades of producing goods in cheap-labor markets "is now beginning to loom large for US companies," according to A.T. Kearney.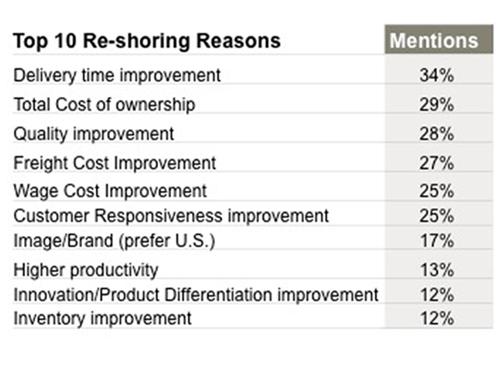 Manufacturers ran into a host of difficulties in Asia. Cultural differences were difficult, and the need for manager engagement was more than expected. Many managers complained about the amount of travel required to make offshoring work. "There are many reasons that manufacturing was hard in China, and that caught executives by surprise," Patrick Van den Bossche, a partner and leader of American Operations at A.T. Kearney, told Design News. "They found themselves going to remote areas with unusual diets and unusual cultural differences."
Cultural differences were just the beginning of prolonged offshore headaches. "There have been hiccups such as bad dog food or toothpaste, so there's a growing interest in seeing 'Made in US' labels," Van den Bossche told us. He also pointed to increased inventory needs when the product is produced 4,000 miles away. "Managing a vast supply chain that starts here with innovation, goes to China, and then comes back adds complexity and adds inventory. You have to add more inventory because of the time it takes to move goods across the ocean."
There are also positive reasons for taking a new look at North America. "Energy costs are cheaper here. Anything that takes a lot of energy in manufacturing should be here," said Van den Bossche. "The cost of making energy is low with natural gas. That's the driver. A lot of electricity is shifting to gas and that helps with the energy costs in manufacturing."
Those companies that are coming back to the US are looking for low-cost solutions. "The manufacturers that have come back, came back to existing buildings," said Van den Bossche. "They say, 'We have this building we haven't used in 15 years and it's a low capital solution.' They're avoiding putting new metal in the ground."
Related posts: