Students involved in science, technology, engineering, and math (STEM) will now get free access to a product design and productivity tool provided by a partnership between Siemens PLM Software and CADENAS. Students and educators worldwide can now access the same online catalogue of 3D digital parts used to increase product design productivity by industrial manufacturers. Siemens' academic partners can quickly find and download standard parts from a massive digital database based on CADENAS' widely used PARTcommunity technology.
By providing academia with the same technology used to instantly access millions of 3D parts from more than 400 manufacturers, Siemens and CADENAS hope to align STEM education with real-world job opportunities. "The overall goal of our academic program is to develop a highly trained and heavily recruited PLM workforce," Bill Boswell, senior director of partner strategy for Siemens PLM Software, told Design News. "Providing our academic community free access to the massive CADENAS digital parts database enables students, researchers, and educators to use standard parts just like they would in industry."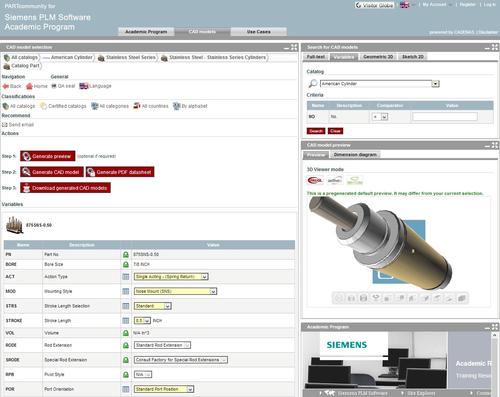 Boswell said access to PARTcommunity will help students develop a strong real-world skillset and will help focus their design efforts on areas that add value for manufacturers. "We believe this real-world application in academia will enable a future generation of engineers to make smarter decisions and better products," Boswell told us.
When manufacturing companies design new products, many of the parts they use are standard designs available from a variety of sources. Yet if these standard parts are difficult and time consuming to locate and identify, time is wasted by searching through catalogues, or even possibly creating a new design for a part that already exists. As a result, manufacturers worldwide have turned to tools like CADENAS PARTsolutions to quickly locate standard parts.
The CADENAS catalogue supports all of the 3D data formats relevant to the global manufacturing industry, including those associated with Siemens NX software, Solid Edge software, and the JT data format.
Siemens and CADENAS worked together to create a portal specifically for educators and students. "We collaborated on the look and feel of this academic portal," said Boswell. "It leverages CADENAS' PartCommunity technology to provide the millions of parts from more than 400 manufacturers."
Educators and students can click here to begin using the program.
Related posts: