We've told you about several NASA-sponsored efforts to create new types of robots for exploring planets, moons, and asteroids. Some of them, like the golf-ball-sized robotic droplets and the flywheel-driven swarming "hedgehogs", are spheroids, an ideal shape for several reasons. The latest are the Super Ball Bots, and they sort of look like spheres, but are constructed quite differently. They're being designed to go to Jupiter's moon Titan.
Like the robotic droplets, Super Balls Bots' main mission is gathering scientific data. The larger version, with a mass of 75 kg, will carry all three scientific instrumentation packages: Atmospheric and Meteorology, Analytical Chemistry, and Imaging. The smaller version, with a mass of 40 kg, will carry only the Atmospheric and Meteorology and Imaging packages. These are described in some detail in a presentation given last spring by the main researchers at NASA Ames Research Center. You can also access the Phase I final report here.
Click on the image below to start the slideshow.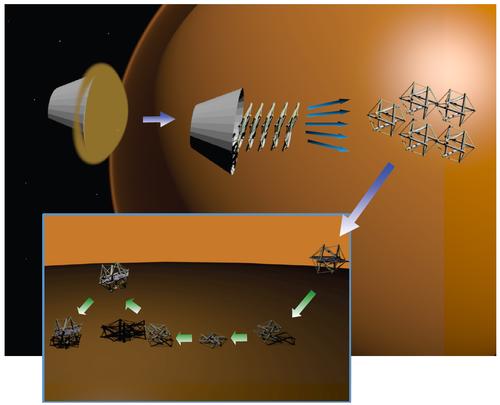 What's different about them is that they're constructed according to the principles of "tensegrity," a term coined by Buckminster Fuller, known for popularizing the geodesic dome. The term combines "tension" and "structural integrity." It works on principles of how force is distributed through a structure that are different from those of rigid structures. Tensegrity's global distribution of force gives maximum strength to a structure without adding a lot of weight, and minimizes the number of points of local weakness. Many natural forms are constructed this way, such as microtubes and microfilaments within cells. The human skeleton is an example of biotensegrity.
This type of collapsible structure made of interlocking rods and cables would let a bunch of small, collapsed Super Ball Bots separate and unpack themselves, then bounce onto a planet or moon as they land, recovering from several different landing orientations and roll around to points of interest in roughly spheroidal shape.
According to the Phase II overview, the next phase will consist of building a tensegrity Super Ball Bot hardware prototype that rolls, to verify its viability and practicality. Identifying control methods for navigation and coordinating configurations of multiple robots, and for successfully navigating a variety of difficult terrains, will also be included. This phase will define the Super Ball Bots' thermal and energy requirements, define overall requirements for an asteroid mission, and evaluate a large-scale mission to Titan.
Although there's been talk lately about NASA's desire to get human missions funded again, I don't think it's a likely reality technically, financially, or politically. The idea of human exploration of space is very catchy, and has a lot of psychological momentum behind it, including the excitement I grew up with during the space race. But the risks and costs are enormous. The fact that NASA is concurrently working on a lot of different robotic space exploration designs tells me they still want to go the stars, any way they can. I do too, and I don't care if its robots or humans that bring back the pictures and the knowledge.
Related posts: