NASA created the Robonaut to work on the International Space Station. Now the space agency is working to make sure it can operate on asteroids and planets.
"We want to send a robot wherever a robot can go, so we have been exploring other environments," Dr. Ron Diftler, Robonaut team leader at the NASA Johnson Space Center in Houston, told us. "We've looked at robots for the asteroid environment. We're also evaluating how it would perform in the environment of the moon and Mars."
The dexterous humanoid robot was built and designed at the Johnson Space Center. The latest version, Robonaut 2, is the culmination of 15 years of development. The goal is to build machines that can help humans work and explore in space. Working side by side with humans, or going where the risks are too great for people, Robonauts will expand NASA's repair, construction, and discovery abilities. Central to that effort is a capability NASA calls dexterous manipulation -- the ability to use your hand for work. NASA is building machines with dexterity that exceeds that of a suited astronaut.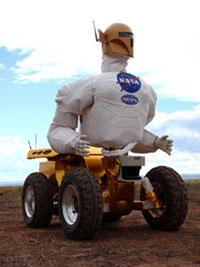 NASA calls Robonaut 2 a state-of-the-art, highly dexterous anthropomorphic robot. Like its Robonaut 1 predecessor, R2 can handle a wide range of tools and interfaces. It can reach speeds more than four times faster than R1, is more compact and more dexterous, and includes a deeper and wider range of sensing.
Advanced technology on the R2 system includes optimized overlapping dual arm dexterous workspace, series elastic joint technology, extended finger and thumb travel, miniaturized six-axis load cells, redundant force sensing, ultra-high-speed joint controllers, extreme neck travel, and high-resolution camera and IR systems. The dexterity allows it to use the same tools as astronauts, so the agency doesn't need specialized tools just for robots.
Keeping the Robonaut safe
Since the Robonaut works side by side with humans, safety is critical. NASA can't have it wrenching someone's wrist when it means to tighten a bolt.
"NASA has tight safety standards. R2 is designed to not exert excessive force," Diftler said. "R2 has a health monitoring system to make sure its systems are operating properly." It is given only enough capability to do the task at hand. "It can't exert more force than it needs for the task. When it bumps into you, it's about the same as when a human bumps into you."
Making the Robonaut human
One of the program's goals is to provide a robot that can do human tasks. In doing so, NASA is trying to replicate much of the human from. "It's a challenge to make things fit into the human package. We humans have developed over hundreds of years. Getting R2 to perform like a human is a challenge."
Diftler made the Robonaut's role clear. "We don't see Robonauts replacing astronauts. Our goal is to send people out to space. We see robots as helping with difficult or dirty tasks."