Every aspect of motion control seems to be moving forward. All of the recent developments added together result in greater efficiency, increased flexibility, and ease of use. A trend in cost competition is driving down prices and driving up features. As with most areas of automation, energy efficiency continues to be an important feature among motion control vendors.
Centralized control and embedded software have taken over, giving automation engineers more control and flexibility over their operations. Changes are made with software rather than by wrestling with gears. Information, control, power, and safety are now running along one hybrid cable, saving immeasurably on wiring and cable.
Motion control information is now available anywhere the control engineer wants it, on the laptop, on the tablet, on the smartphone, at home. And finally, prototyping has gone virtual. The set-up of motors can be configured in the CAD program, so bugs can be worked out before robots start crashing into each other.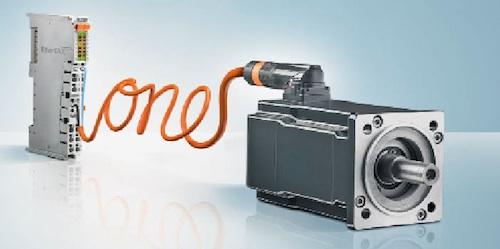 The hybrid cable takes over
New technology has allowed plants to run fewer wires. In the past, plants needed wires for power, wires for control, and separate wires for safety. Wires were crisscrossing everywhere. Now, it's all on one wire. "One trend is the single cable approach, the hybrid cable," Craig Nelson, motion control product manager at Siemens, told Design News.
"This puts the power and the communication on the same cable. That saves on installation, since you only run one cable." To accomplish this, plants are using the same type of cable for everything, including safety. "Before, when we had six motors and six axes, we had to run 12 wires," said Nelson. "Now we do it on one cable."
The efficiency of safety is also improved by running along one cable. There is no additional safety bus required, since the safety information and the standard data is sent through the same network as the drives. "The combination of drives, I/O, peripheral devices, safety bus, and standard Ethernet in a single network simplifies handling and reduces hardware and installation costs," Joaquin Ocampo, product manager at Bosch Rexroth, told us. "This makes it easier to deploy integrated safety controllers and homogeneous safety solutions."
Integrated control
Another trend in motion control is integrated control, an approach that allows the plant to coordinate multiple motors from a centralized controller. "The idea of integrated or centralized control is that we're able to coordinate the motion from one controller," Matt Lecheler, motion specialist at Beckhoff Automation, told Design News. "This gives you the ability to synchronize the movement. Say you have a product coming through. You can profile the movements to match the cycle time and execute the motion control in milliseconds." Lecheler noted that the advantage is the ability to run the control in real time and have enough computational power to process everything from one controller.
Integrated control is part of the switch from gears to software. "Gears and cams are replaced by individual axes and individual motors, and they're taken over by the control system," Christian Fritz, senior product manager for robotics at National Instruments, told us. "Changing the system now is a change in software rather than a change in gears and cams. It reduces costs, since mechanical components are expensive. It's more efficient, and it saves wear and tear."