Are they robots or androids? We're not exactly sure. Each Geminoid has been made to look just like a real individual -- all three of them, starting with their creator, professor Hiroshi Ishiguro of Osaka University in Japan.
Like the standard definition of robots, the Geminoids are electromechanical devices. But they look and act like living creatures, in fact, like specific individuals, so they might be considered androids. As we've previously discussed, though, that usually implies the incorporation of some living cells. It also implies embodied computer intelligence. The Geminoids don't have either, so I'll call them robots.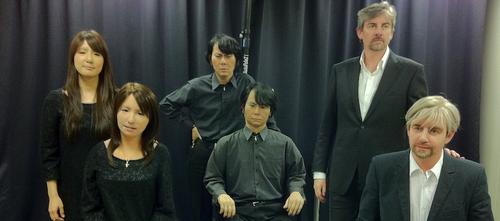 Most uncanny of all, like real humans, the Geminoids appear to talk. Of course, it's actually a real human doing the talking and controlling the robot's movements remotely, so the apparent human presence is simulated. But it's eerily life-like, as you can see from this video of the Geminoid-DK robot conversing with two humans, and this video of Geminoid F conversing with her human twin.
In this video you can watch all three Geminoids and the humans they were modeled after. They were created as exact copies of Ishiguro (Geminoid HI-2), an unidentified young woman (Geminoid F), and professor Henrik Scharfe of Aalborg University in Denmark (Geminoid-DK). Scharfe is the principal investigator of the Geminoid-DK project.
The majority of R&D conducted by the Hiroshi Ishiguro Laboratory of the Advanced Telecommunications Research Institute International (ATR) has been aimed at making the robots' looks and movements as realistic as possible. The Geminoids are therefore tethered, not autonomous, and their movements are limited to the head, arms, and upper body. Geminoid-F has only 12 degrees of freedom (DOF), but the latest version of Ishiguro's lookalike, Geminoid HI-2, has 50 DOF. Each has a plastic skull, a metal skeleton, urethane foam flesh, and silicone skin, and a DC power source to control the air-flow control valves that drive pneumatic actuators.
Ishiguro's work at the ATR is aimed at the use of technology to increase the sense and feeling of another person's presence while we use technology during remote communication. His lab's other robots include Telenoid, Elfoid, and Hugvie. Telenoid is a portable, remotely operated, soft humanoid robot equipped with microphones and wireless communication. Elfoid is a smaller, doll-shaped version of Telenoid that incorporates a cellphone. Hugvie has a similar function and shape to Elfoid, but in the form of a larger huggable pillow. It also includes vibration technology that emulates heartbeats.
Other highly realistic talking robots have been developed by the Service Robots Research Group of the Intelligent Systems Research Institute of the National Institute of Advanced Industrial Science and Technology (AIST). This Japanese public research institute is experimenting with their use in hospitals, as shown in this video. Another highly realistic robot is the Actroid, developed by Osaka University and manufactured by Kokoro. The Actroid, which you can see in this video, gestures, talks, and moves its upper body.
Related posts: