For the past three years, there has been mounting anecdotal evidence that North America is once again becoming a preferred location for manufacturing. The evidence has been spotty, but nonetheless compelling -- Apple's building in Texas, Motorola's making smartphones in Fort Worth, Lenovo opening a plant in North Carolina, Texas Instruments in Maine, GE in Kentucky. It goes on and on.
The growing list of North American plant openings has spurred the Association Connecting Electronics Industries (IPC) to conduct a study of onshoring -- the opposite of offshoring. Now in its second year, the study, "On-Shoring in the Electronics Industry: Trends and Outlook for North America," shows a pattern in the return or manufacturing to North America. "I think it is a trend. A lot of manufacturers are reviewing their strategy to see if the decisions they made in where they manufacture their products make sense," Sharon Starr, director of market research at IPC, told Design News.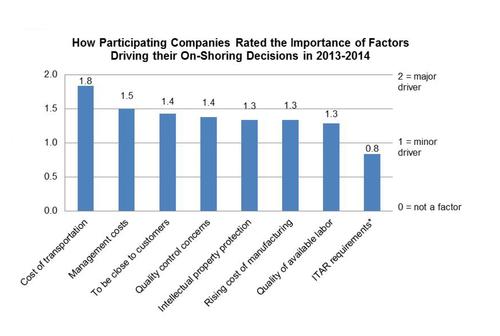 The survey confirms that companies are continuing to locate new operations in North America, and they are returning some existing operations to the region. The survey also finds that more onshoring is planned for the coming year. A representative sample of 92 companies with combined annual sales of $50 billion completed the survey.
The results also indicate that 16% of the responding companies moved operations to North America from overseas since the beginning of 2012. They include OEMs, EMS companies, PCB fabricators, and suppliers of materials and equipment. Based on the value of the operations and number of jobs created, EMS companies were responsible for the greatest share of operations returned to North America. Most of these operations were moved from China to the US, with a few moving to Mexico.
Starr points to a number of reasons companies are taking a closer look at North America as the right location for manufacturing. "The costs of offshore labor are going up in double digits," Starr told us. "Manufacturers are also factoring in costs they didn't anticipate, such as the need to send executives over to train, to hire, and to solve problems. That became quite a lot more than they anticipated."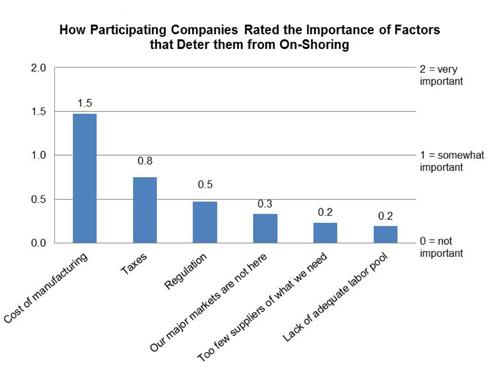 The low labor rate in Asia is turning out to be something of a mirage. "The labor rates between North America and Asia are narrowing in a couple ways. The wage rates in China are climbing at a fast pace, and they're not rising here," said Starr. "Also, productivity turned out to be an issue." All of that chips away at the labor advantage. Starr also pointed out that manufacturers are now considering the costs of transportation when they look overseas. "Logistics costs have risen dramatically," she said.
Starr noted that some offshoring costs were hard to determine before the manufacturer actually moved its plants to Asia. "Hidden costs included productivity and management costs," she said. "Manufacturers whose customers are in North America found it's important for fast turnaround and for design changes. The turnaround time and the pace of innovation become problematic when your manufacturing is across the world."
Last year, IPC started surveying manufacturers about their manufacturing location plans. "We'd been hearing a lot about onshoring. Some of it was a lot of talk, but we thought it would be a good service for the industry to find out if it was going on," said Starr. "This year we followed up on last year's survey to see if any more was being done. And it was."
Related posts: