We've already shown you how wearable and other fabric-based technology is on the rise, with solutions ranging from electronics-enhanced clothing to a ring that can pay your subway fare electronically to smartphone-enabled anklet baby monitors starting to make their way into the commercial market.
A recent contest sponsored by the element14 design community and Adafruit Industries shows that designers are hard at work spinning their wheels on even more innovations that integrate fabric and technology to create smart products to enhance people's lives.
The community of electronic engineers recently chose eight competitors to build wearable or every-day carry-with-you electronics products on the FLORA design platform for its Adafruit + element14 FLORA "Get Closer" Challenge. FLORA is an open-source wearable electronics design platform created and supported by Adafruit, a company that was founded by an MIT graduate to create learning-based electronics.
The winners of the challenge were US contestant Leslie Birch's FLORAbrella, which integrates programmable lights into an umbrella, and Dutch contestant Linda Kaspers' ColorCam, a light-up children's toy based on a camera motif.
More information about the competition and a complete list of entries can be found on the element14 website.
Click on the photo below for more information on the competitors and winners in the challenge and for a glimpse of the future of every-day wearable and practical tech.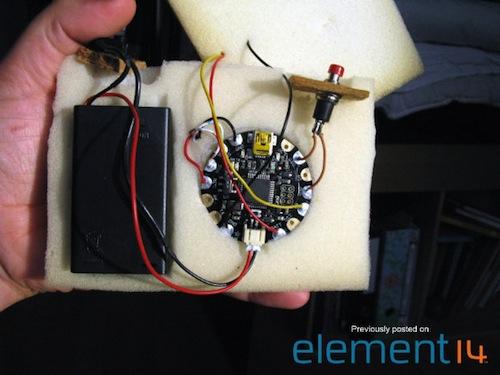 Related posts: