First, Boulder, Colo.-based Modular Robotics invented Cubelets, cube-shaped robotic building blocks that can be snapped together like Legos to form mini-robots that move in different ways autonomously.
Now, the company is going a step further by offering a development kit that lets people build their own custom robots using modular building blocks that fit together via magnets and allow for complex designs and movements. The robots also can be remote controlled through a Bluetooth connection.
Modular has launched a Kickstarter campaign for MOSS, a robot construction system that bypasses the use of wires or coding by using a magnetic-based, carbon ball-bearing construction system.
Click on the image below to see a robot built using the MOSS construction kit from Modular Robotics.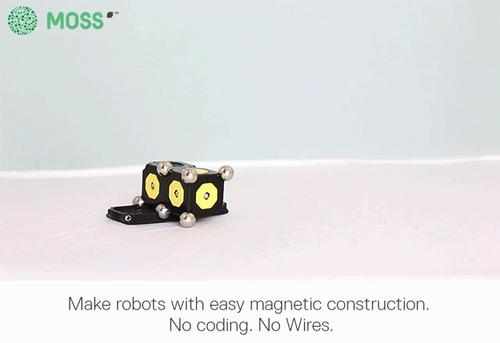 To build a robot using the system, a user can snap together the building blocks using the ball bearings that connect to neodymium rare earth magnets that are molded directly into the plastic corners of the modules through an injection-molding process. In this way, any of the modules can easily be snapped together to make static robots. However, to create robots that -- like Cubelets -- can light up and move, the building blocks must be snapped together according to color-coding on the modules, according to Modular.
The company explains this concept on its Kickstarter website in this way:
Yellow faces conduct power. If you look at the Battery module, you'll see that it has only yellow faces; this module's main purpose is to supply power to other modules. To power up a MOSS module like a Spin, for instance, you'll need to connect one of its yellow faces directly or indirectly to one of the yellow faces on a Battery module. Blue and green faces conduct data: blue is data output and green is input. If you want a Distance sensor to control the speed of a Spin, for instance, you'll need to connect the Distance's blue data out to the Spin's green data input.
Another pink color-coded module face is what the company is calling a "pass-through" face, which means it can pass any signal, either power or data. So, for example, if someone is building a robot and has a battery module a few cubes away from something that needs power, the pink pass-through module can be used to transfer the power.
Once built, MOSS robots also can be remote controlled or modified wirelessly through a Bluetooth connection available on the modules.
Modular has posted a video on its Kickstarter page that explains the history of MOSS and how the system works. The company has been designing and building MOSS for the last two-and-a-half years thanks to grants from the National Science Foundation, among other backers. Modular decided to launch the development kit on Kickstarter to give the community of Cubelets enthusiasts a sneak peak at it before it was commercially available, as well as to raise money for its commercial development. It has already received more than double the funding it was looking for from its Kickstarter campaign -- on Tuesday of this week, backers had pledged $213,080; the company's goal was $100,000.
While the company completes the finishing touches on MOSS, Modular's Cubelets are already available for kids to use and build their own robots using 16 different iterations of the product. The cubelets come in three types -- action cubelets that do things; sense cubelets that allow the robots to avoid obstacles and pay attention to their environment; and think cubelets that perform logic functions like enable lights.
Related posts: