Researchers at Disney have developed a technology that can generate enough energy from the movement of a fingertip to light a string of LEDs or to control lights or other electrical components on e-paper or printed materials.
The Paper Generator -- developed primarily by Disney Research scientists in Pittsburgh -- relies on the placement of a sheet of polytetrafluoroethylene (PTFE), more commonly known as Teflon, between two thin reactive layers of material like metalized polyester that act as electrodes. Researchers Mustafa Emre Karagozler, Ivan Poupyrev, Gary Fedder, and Yuri Suzuki describe the new technology in this paper. It seems like an energy-harvesting version of touch technologies used in mobile devices. The user rubs, taps, or slides a finger over the materials to generate electricity.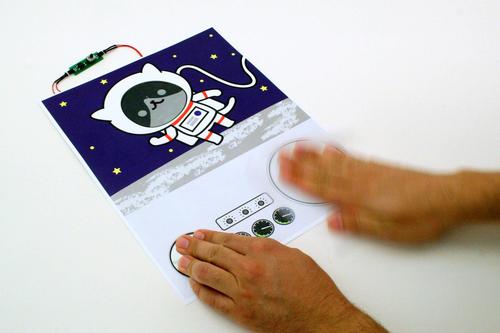 A key component of the technology is the leveraging of electrets (materials with electrical properties) already used in microphones and MEMS devices. When the reactive paper layer rubs against the Teflon sheet, an electrical charge accumulates. If the electrons move relative to one another against the Teflon -- the action caused by the rubbing or sliding -- it generates a small current that can power a number of devices, the researchers wrote in their paper.
The operation of the Paper Generators relies on the movement of the two conductive sheets relative to each other and the electric field source, i.e., PTFE. As the relative positions of the sheets change, the distribution of the induced charges, the electric field, and the total capacitance between the sheets change, resulting in an electric potential difference between the conductors... Hence, the mechanical movements of the sheets and the field source are converted into electrical potential energy that can do work.
Poupyrev, director of the Pittsburgh interaction group for Disney Research, told us in an email that the Paper Generator can eliminate the need for power sources for some small devices, such as infrared communication devices or LED displays. This would make it easier for designers to add visual and audio technology to printed and e-paper materials. "We can imagine any number of ways to use this to add sights, sounds, and other interactivity to books and other printed materials inexpensively and without having to worry about power sources."
He would not discuss how Disney will employ the technology.
Related posts:




2
The promise of the Internet of Things (IoT) is that devices, gadgets, and appliances we use every day will be able to communicate with one another. This potential is not limited to household items or smartphones, but also things we find in our yard and garden, as evidenced by a recent challenge from the element14 design community.

2
Researchers have developed a new flexible fabric that integrates both movement and sensors, introducing new potential for technology-embedded clothing and soft robots.

1
If you didn't realize that PowerPoint presentations are inherently hilarious, you have to see Don McMillan take one apart. McMillan -- aka the Technically Funny Comic -- worked for 10 years as an engineer before he switched to stand-up comedy.

7
The first Tacoma Narrows Bridge was a Washington State suspension bridge that opened in 1940 and spanned the Tacoma Narrows strait of Puget Sound between Tacoma and the Kitsap Peninsula. It opened to traffic on July 1, 1940, and dramatically collapsed into Puget Sound on November 7, just four months after it opened.

9
Noting that we now live in an era of "confusion and ill-conceived stuff," Ammunition design studio founder Robert Brunner, speaking at Gigaom Roadmap, said that by adding connectivity to everything and its mother, we aren't necessarily doing ourselves any favors, with many 'things' just fine in their unconnected state.

Focus on Fundamentals consists of 45-minute on-line classes that cover a host of technologies. You learn without leaving the comfort of your desk. All classes are taught by subject-matter experts and all are archived. So if you can't attend live, attend at your convenience.
Last Archived Class