Sometimes you can improve operations simply by moving everything around. Some plants make huge efficiency gains simply by reducing the distance a technician has to move to complete the work. At MBX Systems, the company made significant gains by creating a "Super Cell" work area for its technicians.
When MBX Systems moved into a new Libertyville, Ill. plant, company managers decided to revamp their production process in the new space. The company builds and deploys enterprise software on servers. "We engineer and build custom server appliances for enterprise software vendors whose products are deployed on hardware and used in settings ranging from media broadcast operations rooms to corporate datacenters," Carl Nothnagel, director of operations, told Design News.
Click on the image below to start the slideshow.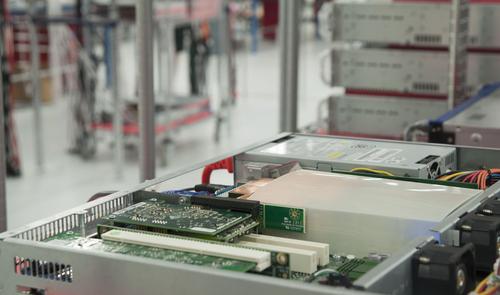 What's a Super Cell?
In setting up the new plant, the managers at MBX decided to try a different approach that might result in improved efficiency and greater scale. They called the new system a Super Cell. "A Super Cell is a work area that MBX created last year when the company was redesigning operations for the new plant," Nothnagel told us. "We wanted to shorten the final stages of the manufacturing process by enabling up to 40 custom server appliances to be configured and tested simultaneously."
Before setting up the Super Cell, production at MBX was far more limited. "Previously, system configuration and testing took place at two separate workstations, neither of which had room for 40 assembled systems," said Nothnagel. He noted the inefficiencies of the old system were very limiting. "Technicians had to move each system from a cart, hook it up to a server rack in the configuration station for software imaging and related operations, unplug it, place it back on a cart, and repeat the process at a separate testing station. Eight different steps were required."
Nothnagel noted that each technician was only able to configure and test eight servers at a time. This hampered the company's ability to fulfill large orders quickly.
Super Cell advantages
The bottleneck in MBX's production mostly happened in the final processes. This was the area where the Super Cell system was deployed. "After technicians have hand-assembled a group of appliances with components and cabling tailored to the customer's specific application, a rack of systems is moved to the Super Cell for software installation, testing, and final inspection," said Nothnagel.
Each Super Cell includes space to accommodate rolling carts containing up to 40 servers. The Super Cell was connected to a computer-based command center from which technicians can simultaneously view, configure, and test multiple systems remotely from a single screen. In addition, any number of MBX's 10 Super Cells can be linked together to handle orders of up to 400 units. That's a far cry from eight servers at a pop.
Efficiency is proven in the metrics
Nothnagel noted that the Super Cell set up increased technician capacity. "Each configuration and quality control technician has quintupled his capacity with the ability to handle 40 systems simultaneously instead of eight." He pointed out that the Super Cell concept also improved plant capacity. "MBX can now build 16,000 to 20,000 systems per shift per month, compared to 4,000 to 5,000 in the previous facility," said Nothnagel.
Related posts: