The integration of sensors and QR codes are playing a big part in the new wave of smart shopping solutions. While some solutions still need to work out some kinks, others are on the cutting edge.
Smart shopping solutions were on display last week at VAD.Conext, a connected business trade show, that took place at the Lille Grand Palais in Northern France. Most of the new solutions were from start-ups and were part of the show's Connected Innovation Village. The village was sponsored by EuraTechnologies, which coins itself as a business solution for creators, start-ups, and businesses, and was a partner in the show. The village was based around smart shopping solutions, social shopping, digital shopping, and innovation labs, which are applied to the uses of connected commerce.
With the exception of a couple, most of the new ideas are not yet available and still going through testing, but it was fun to get a sneak peak to see what people are working on. My favorite solution at the show was an augmented reality showroom that lets you pick different flooring, walls, and lighting to see how they look together. Once you find a product you like, you scan a QR code and it is displayed in the augmented showroom.
Another fun one was an innovative shopping list for your iPad. Each person in the house sets up his or her own homepage to create a personal list and can share the list with a QR code to add products or edit. Now the fun part: Once you are in the store, the app can tell what section of the store you are in and will filter what you need.
Click on the photo below to check out new shopping solutions.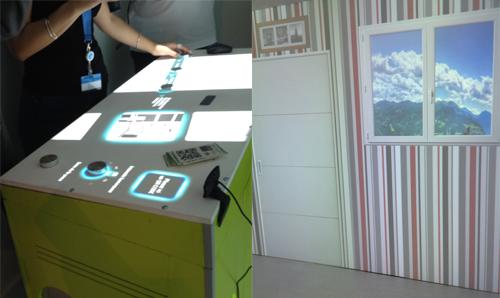 Related posts: