Engineers already have taken wind turbines offshore to produce alternative energy, and now a Vienna, Austria-based startup is allowing for the same with solar panels.
Heliofloat Gmbh, spun off from research developed at the Vienna University of Technology, is aimed at deploying large platforms of solar panels, also called Heliofloat, on bodies of water.
Heliofloat is a lightweight platform that can be in the range of 20 meters to 200 meters long that can not only produce energy by harvesting solar energy, but also could help conserve water in places where there are shortages by reducing evaporation.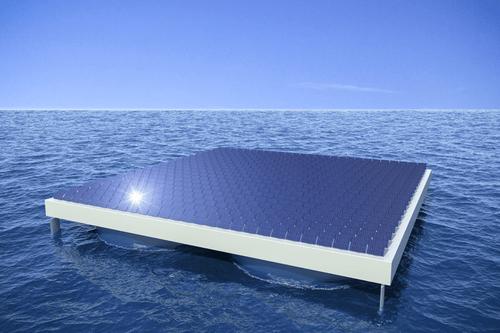 Designers call the system a "swimming" system rather than a "floating" one because the core of the technology is to decouple wave movement from platform movement, said Roland Eisl, general manager of Heliofloat. "So if you imagine you are on one of our platforms you would not see the platform moving up and down," he said. "There is no wave-induced movement of the plate."
The platform's lightweight design means it can be fabricated locally in emerging economies, but its resistance to waves and storms makes it durable and nearly impossible to sink, according to its developers.
The platform has a top level that's constructed from truss or a pneumatic structure that's supported below by pressurized air chambers in cylindrical flexible membrane skirts. The flexible membrane and the air cushion reduce the wave excitation to a minimum.
READ MORE ARTICLES ON SOLAR ENERGY:
"It's the construction itself with skirts and a lightweight plate that does the work for us," Eisl explained, adding that the energy from the platform can be transferred via cable similarly to how it's done in any power production facility.
Heliofloat can be deployed wherever customers would like, he said, and more than one platform can be connected to create offshore floating solar-power grids.
The company is currently seeking investors to bring the first preindustrial Heliofloat platform to water, Eisl said. The platform will be in the range of 20 meters by 20 meters, which makes it applicable for lakes. In the future the company plans to deploy offshore platforms with sizes of 200 meters or more, he said.
Elizabeth Montalbano is a freelance writer who has written about technology and culture for more than 15 years. She has lived and worked as a professional journalist in Phoenix, San Francisco, and New York City. In her free time she enjoys surfing, traveling, music, yoga, and cooking. She currently resides in a village on the southwest coast of Portugal.