A Finland-based company has introduced what it claims is the first smart door lock that can be powered from energy harvested from a mobile device.
iLOQ plans to release its iLOQ NFC smart lock -- which it unveiled at the CeBit expo in Germany -- in the last quarter of the year. The lock, which will first be compatible with Android smartphones, harvests electricity from the NFC (near-field communication) induction of a device and is the first smart lock to use harvested energy for power, according to the company. Users also can control the lock using their smartphone, a common feature of these devices. NFC enables electronic devices to establish radio communication with each other.
Smart door locks are one aspect of the smart home that are accessible even to those who can't afford a larger-scale, integrated solution. However, typically the locks need some type of cabling or a battery for power, which limits functionality and ease of use, said Mika Pukari, iLOQ's CEO.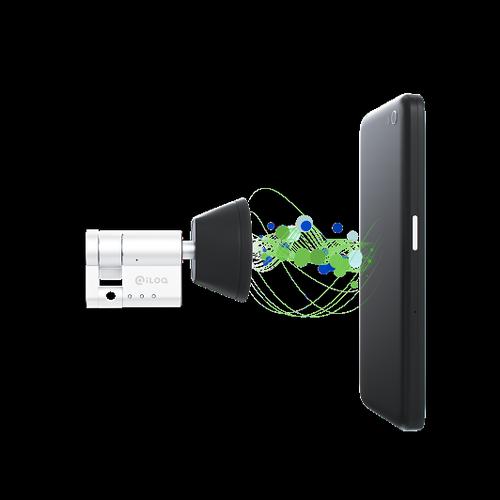 "Every smart lock currently on the market needs to be powered by batteries or a cable power supply," he said. "iLOQ NFC enables you to start using your phone as a key without batteries or cables in the smart lock of your door."
The phone acts as the key to the lock, allowing users to create, share, and revoke access to the lock over the air easily and securely anywhere with just one click on a cloud service, Pukari said. This eliminates the need for any IT infrastructure to control the lock. It also makes for easy installation without drilling or wiring, and eliminates the need for maintenance, such as changing batteries or cleaning keyways to ensure optimal use, he said.
To ensure access to the door remains secure, iLOQ is using three-factor security -- PKI, mutual authentication, and AES-256 encryption. When the lock is opened, the event can be reported back to the lock's cloud service in real-time to facilitate monitoring, Pukari said.
READ MORE ARTICLES ON SMART HOME SOLUTIONS:
While initially the iLOQ NFC smart lock will be available only for Android devices, iLOQ plans to introduce a version compatible with iPhones once Apple opens up NFC in its devices to developers, Pukari said. Until then, people who don't have Android-based phones can use the NFC-based iLOQ Fob to control the locks similarly to how they would using a mobile phone, he said.
If a person's phone is lost or stolen, a system administrator can blacklist the smartphone over the air. After that, access credentials and details can be sent to another smartphone or iLOQ NFC Fob for use with the lock, Pukari added.
Elizabeth Montalbano is a freelance writer who has written about technology and culture for more than 15 years. She has lived and worked as a professional journalist in Phoenix, San Francisco and New York City. In her free time she enjoys surfing, traveling, music, yoga and cooking. She currently resides in a village on the southwest coast of Portugal.